Love, Simon
Simon Spier is a seventeen year old kid. He's got a caring family, a tight-knit group of friends, and a love of iced coffee. He's also got what he refers to as a "huge-ass secret:" he's gay, and falling for an anonymous fellow student known as 'Blue' via email.
So, who is Blue?
Is he the quiet soccer player? The theater kid? The Waffle House waiter? Simon's dying to know, and you will be too. But, as the movie goes on, Blue's identity begins to fade in importance. Suddenly, the real questions solidify: will Simon get his happy ending? And what does that happy ending look like?
"Love, Simon" marches to a new beat in terms of young love. However, "Love, Simon" isn't just a romance. While the coming-of-age film does focus on stumbling into — and out of — love, it's story extends beyond a traditional rom-com. We get to watch the growth of Simon's relationships, not only with Blue, but with his friends and his family as well, and perhaps most importantly, himself. It's the highs and the lows, the falling in love and the falling apart that allow Simon to start to understand and accept who he is.
The film also serves as much needed cinematic representation of LGBTQIA+ youth. "Love, Simon" has been hailed as one of the first major feature films surrounding a gay teen romance. The movie highlights the complications of coming out, the difficulties of looking for love as a member of the LGBTQIA+ community, and the struggle many face when it comes to self-acceptance, with a main character it seems LQBTQIA+ youth can see themselves in.
Wirth widespread praise from audiences of exclusive preview showings and premieres — including Becky Albertalli, the author of the book from which it's based, titled "Simon vs. the Homo Sapiens Agenda" — "Love, Simon" is already succeeding by box office standards. That's no coincidence. Not only did the film include writing that rang true and a talented cast, but subtler devices like filming style and soundtrack added to its cinematic value — keep an eye out for some particularly beautiful ferris wheel shots and songs you'll want to sing out loud.
In the age of Catfish, a film about an anonymous email love story may seem a bit, well, far-fetched. But "Love, Simon" managed to turn a sketchy premise into something sweet. Go read the book. Go download the soundtrack. Go watch the movie.
You'll Love, Simon.
Leave a Comment
About the Contributor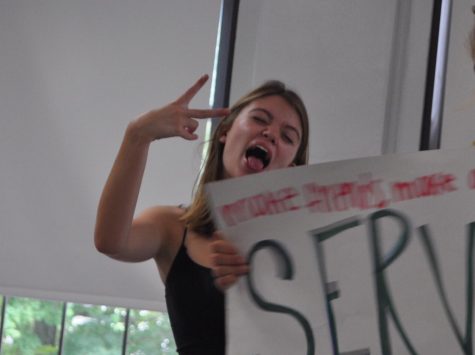 Paige Duff, Web Editor-in-chief
Paige Duff is a senior in her fourth year on Communicator staff, and one of three wonderful Web Editor-In-Chiefs. Her greatest skill is the ability to spin any fortune cookie slip, horoscope, or Magic 8-ball answer in a positive way. Paige loves the planet with her whole heart, and most of the people on it. She also loves car-singing and car-dancing — she does not love car-driving. She's looking forward to a magical year!