Parents or Panthers?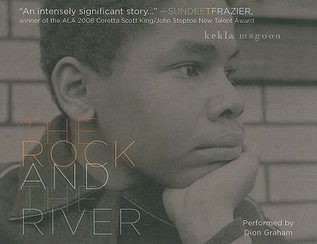 What do rocks and rivers have to do with racism and equal rights struggles in the heart of Chicago? That was the first thing that came to mind while reading "The Rock and the River" by Kekla Magoon, but by the end, the metaphor made perfect sense.
This historical fiction novel starts at a Civil Rights rally, held in 1968 downtown Chicago. The protagonist, Sam Childs, is the son of a community leader and activist in the movement, a friend of inspirational speaker Dr. Martin Luther King Jr. Sam, with his older brother "Stick," is listening to his father speak at this rally.
The book never really moves away from this struggle of the civil rights movement, chronicling Sam's experiences as he struggles to find faith in the movement, and that change is occurring. As the "good" child, he tries to follow his father's lead of nonviolence, but when he sees a close friend beaten and incarcerated from police brutality, and hears of Dr. King's shooting, he begins to find it hard to "turn the other cheek," as his father calls it.
While Sam struggles, the Black Panthers come into the picture, an African-American organization protesting racial injustices very differently from his father's marches and rallies. They speak of arming African Americans; of demanding freedom by force if necessary. Sam's father calls this party "dangerous." But many young people join the Panthers, desperate for some change — including
Sam's brother Stick.
Beyond navigating the complex currents of conflicting loyalties and balancing the demands of the people he cares about, Sam has to somehow also negotiate the tricky time of adolescence. He comes of age in this story, with his first crush and girlfriend, as he gradually begins to move away from his parents, making his own decisions. He begins to follow his brother, who has left, siding with the Panthers after an argument with their father.
But even as Sam starts to follow Stick's example, ignoring his parents and siding with the Panthers, no longer content to sit on the sidelines, doubts assail him. Is this really what was right? Who — his father; or his brother and the Panthers — really has the right strategy? Who is he in the story his brother tells — the rock, solid and immovable; or the river, motion and turmoil? And which is which?
I liked this book a lot. I read historical fiction a fair amount, but don't often read novels set in the 1960s. This book was a new perspective for me, a reminder of how the Civil Rights Movement, even while everyone was working towards a similar goal, was divided into different factions, sometimes with very different strategies. It was also interesting to think about how organizations such as the Panthers could divide families and communities with their radical ideology and methods.
However, I did have one or two issues with the book. My main problem was with how abruptly I felt interactions between characters changed. It seemed that one moment Stick was a slightly rebellious son but still definitely following his father's lead — the next, he's leaving the house and not coming back, a diehard Black Panther. A similar, if less drastic transformation seemed to happen with Sam's girlfriend Maxie — one moment she's a distant crush, the next she and Sam are everywhere together.
Some of this stems from a point in the book where the author says "several months pass" to tell us things are changing, I assume, but I felt this transition to be kind of awkward and unsatisfying — I still wanted to learn how and why things changed, get the slow shifts in character. Sam, however, I thought grew slowly and satisfyingly, and this pacing issue was relatively small.
"The Rock and the River," by Kekla Magoon, should appeal to a large number of potential readers. Historical fiction fans should enjoy it, set as it is in such a pivotal time and place in this country's history. Readers who enjoy coming-of-age narratives should also like this novel, with its gripping story of how Sam matures in a place and time fraught with danger to be a teenage African-American boy. Even if you don't think you enjoy those genres, you should try this book. As the winner of the Coretta Scott King Award and the John Steptoe Award for New Talent, "The Rock and the River" is a meaningful and interesting read.
Leave a Comment
About the Writer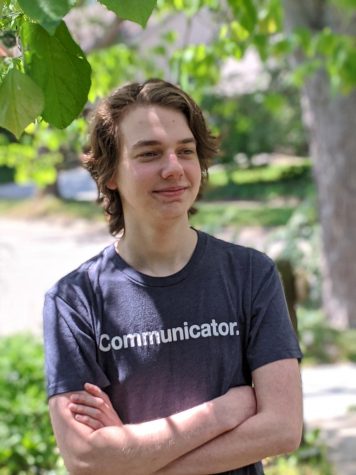 Charles Solomon, Web Editor-in-Chief
Charles Solomon is a senior at community, and this will be his seventh semester on staff. He is excited for many things about the year ahead, but the thing he is probably most proud of is the fact that he is posting this profile on time and not a year late like previous years. When not in class, Charles can often be found starting pointless debates in Mock Trial, practicing Jazz Violin for his combo, or plotting to translate the Communicator website into Tolkien's Elvish. In his scant free time, he enjoys reading books he doesn't have time for, watching bad movies, checking the news, and on special occasions spectacularly losing overcomplicated video games.