Being An Arab American
My mom grew up in a small house by King Elementary School with her mother, father, sister, brother, aunt, uncle and other family members that would come and stay once in a while. All she heard growing up was how her family's land was becoming more ruined every year. More separate. Harder to go see her aunts and uncles overseas.
Now, as a fifteen year old in this family I am now old enough to hear the stories and struggles my family had gone through. My grandfather always talks about how he came to the states with just ten dollars in his pocket. How he juggled school, work and family all so his kids could have a better life. A safer more accepting life.
What he always left out from those stories was the true struggle. How he was the oldest of ten and was the first to graduate and get a plane ticket that was not affordable for his family to come to the states.
I think the hardest thing to hear that still leaves me in tears is how he had no connection with his family. He had no way to hear about the curfews and the loss of family. His father had died of internal bleeding and his mother had to bury him before the soldiers came out. The curfew was just hours away and she did it all alone. My cido didn't hear about this until weeks later.
By putting myself in his shoes I broke down and began to cry on the kitchen counter as my cido kept talking like it was just another chapter to his horrific life story. His brave life.
As an Arab American I find that I still have many opportunities like others in the United States. But what I think many don't understand is the brutality that my family has gone through. I was raised as a Muslim-Christian Arab American.
Simple things like going to class in middle school to learn about Muslims and hearing the people in the back of the room say 'they are terrorists and we shouldn't be learning about them.' I keep my mouth shut. I never spoke up when I was learning about my religion in school. I didn't want to have to deal with the no-filtered buffoons in my class that didn't have the right to know what I was. But another part of me felt that I could've just told them I was a muslim to prove that not all muslims are horrible people. Truly, almost all are wonderful people.
None of my family are terrorists. They would do anything for anyone. They don't judge, they love. They show support and don't push people down. I will always know that this stereotype is so far from right and somehow, I want to show others this as well.
About the Contributor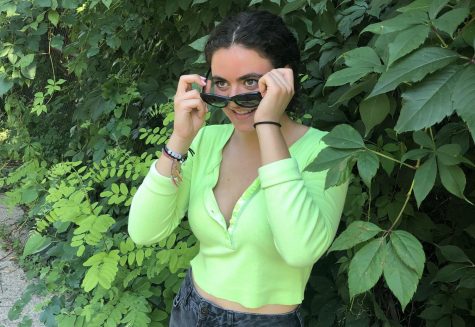 Jenna Jarjoura, Web Editor-in-Chief
Jenna is a senior at Community High and is excited to start her fourth year on staff. This year she is part of the Web team. When she's not writing, she can be found on the soccer field during the week and Dairy Queen on the weekends! Other free time has been spent reading, coloring, running, listening to all sorts of music, and watching countless hours of Tiktok. She also spends way too much time saying the word "bruh" which she has never and will never grow out of.