Founding Zingerman's
On March 15, 1982, an Ann Arbor institution was established: Zingerman's Delicatessen. Founder of the successful Zingerman's company was Ari Weinzweig, who "accidentally" fell into the food business but has certainly not looked back since.
The Chicago native spent four years at the University of Michigan studying Russian history, but didn't want to leave after graduating. Instead, he took a job as dishwasher at Maude's (an Ann Arbor restaurant that closed in 1998). This is where Weinzweig was introduced into the broad food business, and where he was able to meet friends and acquaintances to help grow his future Zingerman's businesses; one of whom was Paul Saginaw, his future co-owner.
Weinzweig continued to work at Maude's, and after two years in Saginaw left with Mike Monahan to open up Monahan's Seafood Market in Kerrytown. Weinzweig stayed for about four total years at Maude's, and in the fall of 1981 he was becoming less aligned with their long-term vision, resulting in him deciding to give two months notice to quit. He didn't know what he was going to do next, but fortunately Saginaw called Weinzweig with the news of a building opening up near Kerrytown.
"Paul called me a couple days later and said there was a single building coming open near the fish market, and that we should go look at it," Weinzweig said. "In Detroit, where he grew up, you could get good deli food, you could get it in Chicago, but you couldn't get it in Ann Arbor. So that's when we decided to open, and four and a half months later we opened."  
From then on, Zingerman's was born. After the success, there was a noticeable need for more space and additions to the business. In '86 and '91, they added renovations and additions to the existing deli, but in '93 — after 11 years of being in business — they wrote out their long-term vision. That was called Zingerman's 2009, as it went 15 years into the future. The vision talked about creating a community of businesses, where each would be owned by Zingerman's, but would have its own unique specialty.
Each business would have a managing partner, and there would an owner on site who had a passion for the business. They worked on the seperate businesses in '93, and then began them officially in '94.  
It has been a staggering 25 years since the "community of businesses idea" was born, and since then, they have added 13 cooperating Zingerman's businesses: Zingerman's Bakehouse, BAKE! (a teaching kitchen for home bakers), ZingTrain (training program), Zingerman's Catering and Events, Zingerman's Mail Order (online shop for gifts, food, etc.), Zingerman's Creamery, Zingerman's Roadhouse, Zingerman's Candy Manufactory, Zingerman's Cornman Farms (event space), Miss Kim (Korean restaurant), Zingerman's Greyline (newest event space), and lastly, Zingerman's Service Network. Although it's not a business, Food Gatherers is a non-profit also founded by Zingerman's.
Weinzweig hopes to expand the community of business even more and although Zingerman's company is nationally recognized, he plans to maintain all aspects of the business in the Ann Arbor area.
"Well our vision is to open more Zingerman's businesses," Weinzweig said. "I like to do it here in the Ann Arbor area. For me, not necessarily for everybody else, but I feel very strongly about doing business in a town that you're present in."
Leave a Comment
About the Writer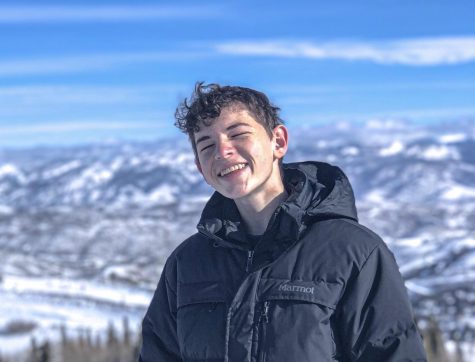 Dan Gutenberg, Web Editor-in-Chief
Dan is a senior and this is sadly his fourth and final year on staff. In class, you'll usually find Dan working hard on the website, editing someone's work or occasionally on SNO unproductively changing his admin color scheme just for fun. Outside of class, if he's not on the soccer field for Pioneer, he's most likely climbing, hiking, golfing, skiing or playing tennis. And he also remains convinced that he can beat anyone on staff in ping-pong, so feel free to lower his ego and challenge him to a match.