Me & My B*tch
Reminiscent of early '00s Nelly and the bops of our early youth, YG and Tory Lanez's "Me & My B*tch" is a shockingly smooth song appealing to the chords and rhymes of old school rappers like Tupac and Biggie Smalls. With Tory Lanez vocals, YG is able to shed his reputation as a "bangerz-only" artist and show a softer, more emotional side.
Similar to many other rap artists, when it comes to love, YG is really just looking for loyalty; he wants a girl that is going to be as equally "all his" as he is "all hers." As sung in the chorus by Lanez, YG is simply "looking for a down girl" — someone loyal, respectful, and trustworthy. Remembering a past relationship, "Me & My B*tch" is much more than its explicit title. It is an ode to loyal, trustworthy love and what it means for two people to be truly invested in each other.
Throughout the song YG recollects on a past relationship that, at first, was perfect. YG made real sacrifices in this relationship, always putting his "b*tch" first and constantly finding new ways to prove his devotion, but even then, he "caught the b*tch cheating." So really, "Me & My B*tch" is a tragic love: the story of a man in love with an unfaithful woman. Going against the common stereotypes outlining black men as cheaters, YG's "b*tch" is a rare female antagonist in a world that generally villainizes men in relationships.
While "Me & My B*tch" is a rather light tune in comparison to other songs on YG's first studio album "My Krazy Life," YG's style and flare still manage to shine through. With its heavy beat and melodic chorus, "Me & My B*tch" is an extremely adaptable song perfect for almost any mood from angry, to sad and anywhere in between.
Overall, "Me & My B*tch" is an often overlooked banger for the books.
Farewell to the rap haters,
Mira
Leave a Comment
About the Contributor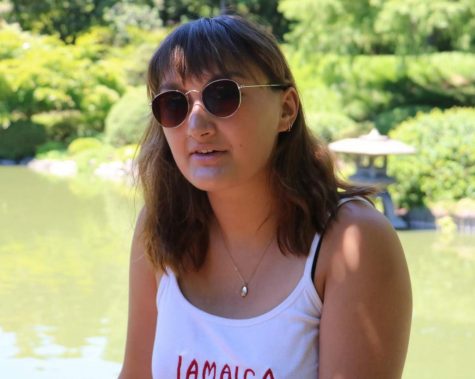 Mira Simonton-Chao, Website Editor-in-chief
Mira is a senior at Community High School and has been on staff for the last four years. She loves writing and The Communicator but also really hates writing staff profiles. She is passionate about American cultural studies, music and living the most vibrant and expressive life she possibly can. She also loves traveling and cooking yum food.