A taste of France in Le Bon Macaron
Friendly faces are always waiting to greet customers at Le Bon Macaron in Ann Arbor, Mich. A glass case with an assortment of fresh, handmade macarons glow in the soft lighting of the small store. Thanks to Kelly Toland, customers of all ages stop into Le Bon Macaron everyday to have a taste of France.   
Prior to attending Albion College, where she studied French, Toland decided to open a bakery where she specialized in cakes. Her bakery, A Piece O' Cake, was incredibly successful and won many awards. It was also featured on national television. As a side business, Toland started to sell macarons.
At first, selling macarons was only a hobby. Toland's love for France pushed her to start making macarons along with her custom cakes. She lived abroad in France for a year, and travels back often. It was there where she drew inspiration for her store.
Not only is Toland influenced by French bakeries, but other aspects of European life. Her stores model those in France, and are evocative of European cafes.
Toland started Le Bon Macaron in 2010, but it was not until 2014 when she finally opened her first cafe in East Lansing, Mich. After that, two new locations popped up in Grand Rapids in 2015, and Ann Arbor in 2017.
After opening the Grand Rapids location, Toland's business really started to take off. Her entire family had gotten involved in the business, and still is today, along with her 25 employees which have become a part of her family as well.
"I'm fortunate that while I work, I spend the vast majority of my time with my daughter," Toland said. "My work for the business allows me to work at home so most of my time can be spent with Charlotte, who is always my first priority."
Afternoon Tea is a large aspect of European culture Toland incorporated into her stores. Customers must make a reservation, and are served fresh macarons and scones, a pot of tea and cheese and crackers.
Before she started A Piece O' Cake, Toland was planning on returning to school to get her teaching certificate to be a French teacher. However, she believes she would most likely be a stay at home mom right now if she had not decided to start her two successful businesses.  
"You need to be adaptable," Toland said. "From one day to the next I can be doing different tasks, tackling different issues. It's always changing, and challenging. You must have self discipline too. You are responsible for yourself and your business."
Le Bon Macaron continues to thrive at all three of its locations. It attracts everyone from young children, working professionals, students, and the elderly. Regular customers, and new, fresh faces all contribute to the success of the store.  
Leave a Comment
About the Contributor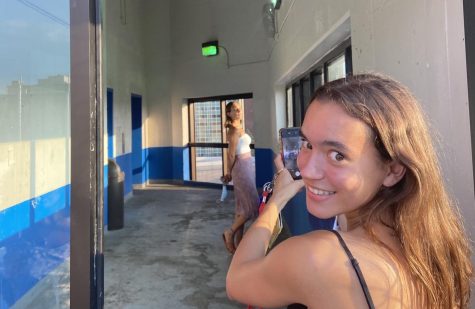 Tai Tworek, Print Editor-in-Chief
This is Tai's fourth year on staff and second year as a member of the Print Editor-in-Chief team. When she's not designing pages or writing articles, she is usually spending time with her grandma, playing soccer for Skyline or Detroit City FC, working at Dairy Queen, or trying to become TikTok famous. She has a strong love for oatmeal, the word "swag" and overalls.