NetNobody's "Mixtape"
"Mixtape" is the first album released by the artist Adam Dahlberg — known on stage as NetNobody — who published his album on Sept. 3, 2018. It is an album where Dahlberg combines acoustic instruments with slow and emotional raps over each song. "Mixtape" contains a total of 13 songs. Though fans of Dahlberg's work were hoping for some of his more popular songs such as "Maui Moon" or "Cabin Fever" to be featured on the album, many fans have spoken out on Twitter that they are fans of many of his new songs.
Dahlberg's first song, "LA Lights" was first released in Nov. of 2017, and quickly after the release, he began working on the production of "Mixtape". While he's released many songs in-between his first song, and his first album, there is only one song on the album that been released before the remaining songs, "Masks". This being said, all songs on the album feature the story of Dahlberg's life, and how he's transformed through some of the most difficult times in his life.
"I've worked with a few different producers since I've begun, and by working with them I found out there are many different styles of music I can do," Dahlberg said when talking about how he got started with music. "In my music, I enjoy getting emotional and talking about impactful moments in my life."
While I love many songs on this album, my top picks would be "Losing Myself," and "Pull Me Down." The thing that these two songs have in common is that they're both telling powerful stories over an equally sensational background music.
The album begins with "Losing Myself," which in my opinion, is a great way to start the album. Each chord in this song is singled out, so the only sounds you're hearing are the piano chords, drum beat, and voices of Dahlberg as he sings over the music. In the song, Dahlberg talks about how he was bullied growing up and how it took a while before he could look at the world as something he could trust.
  As the album moves to "Pulling Me Down," the mood of the album changes with it. Instead of piano chords dominating the background of Dahlberg's songs, a mixture of guitars and electronic sounds begins to infiltrate his songs as well. While this change can be slightly jarring at first, its change is ultimately welcomed as its entrance is magnificent.
While there are many songs that I enjoy on this album, my least favorite song is definitely "Movin." The song only includes a drum beat and Dahlberg's voice, coupled with the fact that Dahlberg doesn't stop saying the word "Movin" until halfway into the song, I am left to believe that this song was included to make the album longer. However, "Movin," is the only song on "Mixtape" that I truly dislike, and find many of Dahlberg's songs to be interesting and interactive.
While Dahlberg managed to create a successful album, it is evident throughout "Mixtape," that he is still new to the music business and thus still has many new things to learn. One thing that Dahlberg does effectively is looking at what is popular in rap culture at the time — currently being mumble-raps — and releasing new songs to mock popularity of rap culture.
"Rap is supposed to be unique, everybody that has gotten big doing rap does it by creating their own unique version," Dahlberg said on Twitter. "So when everybody goes out and does the same kind of raps, I'm going to go in and make fun of people doing the opposite of what rap is supposed to be."
Track List: https://open.spotify.com/album/0D9kvndRnTWF3I5L871BnL
Losing Myself

Sh*t Happens

Waking Up

Pull Me Down

"Happy"

Masks (Ft. Zonashi)

Time Traveler

Voiceless

Hiding (Ft. Unwoji)

Movin

Falling

Birthday

Soaring
Leave a Comment
About the Contributor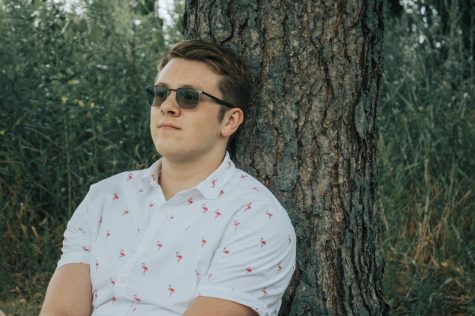 Atticus Dewey, Print Editor-in-chief
Atticus Dewey is a senior at Community High School and is more than excited to start his fourth year on The Communicator staff. This year, he is one of the four Print Editors-in-Chief, but believes that the entirety of the staff is more skilled than any other year prior.
His life outside of journalism is completely absorbed by one thing: water polo. While Atticus doesn't have any free-time because of it, he wouldn't have it any other way. While Atticus has felt stressed and like time has been flying by, he's grateful that he has three other wonderful editors to help him through the process.