What's swingin'?: a new Year of jazz at Community
You have to knock hard on room 118; the door is thick and the room is always locked. Sometimes, you knock and no one responds. Regardless, music will always meet you at the door. The sound of the drums and stand-up bass pulsate through the floor, the saxophone flowing through melodies like wind through mountains and valleys.
With the start of the school year comes another year of Community High Jazz, a program run by teacher Jack Wagner which is firmly rooted in the Ann Arbor music community. The program is well known for its rigor and ability to produce highly competent musicians.
"I think that Jack is a lot less of a public school teacher and more of a jazz teacher," said Aris Chalin, a senior at Community High and the pianist in the band 'Unified Field Theory'. "He is a professional university teacher in what he is teaching. But a lot of the things that make the program really shine — it is not possible to go into that much depth in the public school [system] right now."
Chalin and other students agree that the program is intense. There are four levels of classes, in which 'Jazz I' is the base level and 'Jazz IV' is the highest. In Jazz IV, students are able to form their own small combos and play gigs around town. These performances are instrumental in helping students grow as musicians.
"From what I have seen from other Jazz programs, the ability to gig around town and have on-the-job experience is completely unique," Chalin said. "You can only find that at Community."
The program was set up to be laborious, Wagner admitted. It was created to push students to be their best. Joel Appel-Kraut, a freshman at Tufts University who used to drum for the top band in the program, appreciated how much he progressed because of this structure.
"There are a lot of kids who quit the program, but there are also kids who grow every year," Appel-Kraut said. "He [Wagner] knows that he is able to run a really rigorous program to push the kids at the top to be super good, and also push the kids who have potential, but aren't necessarily there coming into high school to realize that."
So what does it take to succeed in this program?
"Well, you have to be willing to experiment," Wagner explained. "You have to be able to be forgiving of yourself because this music is difficult and you are going to sound less than wonderful quite often when you are young… You have to be willing to stand up and put yourself out to the world and say 'Hey, that was the best I had for the moment, and it will get even better for the next one.'"
Jazz IV level bands have already started to perform around town; catch 'Unified Field Theory' at the Ann Arbor Jazz festival on Saturday, Sept. 29. The Community High Winter Jazz Blowout, which features every level and band in the program, will be on Tuesday, Dec. 28 at the Mendelssohn Theatre, which is located in downtown Ann Arbor. Come with open ears and be ready to swing.
Leave a Comment
About the Writer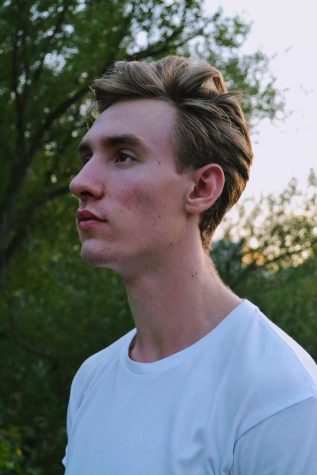 Sacha Verlon, Opinion Editor
Sacha Verlon is in his third year on staff for the Communicator. He has an attention span of one minute and is Literati Coffee's biggest fan. Verlon enjoys playing guitar and using his musical skills as a means to procrastinate doing his homework. He loathes the cold and hopes to go to college somewhere warmer, possibly in California. You can find him zipping around Ann Arbor on his red Vespa.