Michigan v. Maryland football game recap
Over an hour after scheduled kickoff, the college football game between no.15 Michigan Wolverines and the unranked Maryland Terrapins was yet to start. The inclement weather caused the Wolverines fourth home game to be delayed over 70 minutes, in a game Michigan needed to win.
The Wolverines were coming off a game against unranked Northwestern, where they were, at one point, down 17 points against an opponent. They were able overcome this deficit and defeat Northwestern 20-17, but critics were still very sceptical. Michigan quarterback, Shea Patterson, did not throw for a single touchdown against Northwestern, was in need of a bounce-back week.
As the game finally began, The Wolverines looked sluggish. It wasn't until one minute remained in the first quarter, when kicker Quinn Nordin got the heavily favored Wolverines on the board, 3-0 after a field goal. Unfortunately for Michigan, the next play wasn't so successful. Maryland kick returner, Ty Johnson, returned the kickoff back 98 yards.
The Wolverines were in a hole and in need of a spark. Fortunately, they have two talented seniors in their backfield.
Karan Higdon and Ben Mason, running backs that have been at Michigan for a combined nine seasons, are often leaned upon when the Wolverines need them most. With Michigan still down 7-3 on their own five yard line, this was one of those times. The two backs combined for nine carries, on a drive that ended with a Ben Mason touchdown which gave the Wolverines the 10-7 lead.
Shea Patterson, who had only one touchdown in his last two starts, played his best Big Ten game yet. Completing over 70% percent of his passes for nearly 300 yards, along with a season high of three touchdowns. Even senior wide receiver, Grant Perry completed a 12 yard pass. A trick play that was one of the many contributors in the very successful game at the Big House.
Michigan doubled Maryland's final score, winning 42-21 to improve to 5-1 overall, and 3-0 in the Big Ten. Michigan moved up three spots in the AP poll this week, moving from No.15 to No.12, and is one of only three teams that are undefeated in Big Ten play.  
The Wisconsin Badgers, one of the other remaining Big Ten unbeatens, are next up for the Wolverines. It will be a nationally televised game that will bring College GameDay to Ann Arbor. This will be the Wolverines' biggest test at home this year, in a game with a 7:30 p.m. start. The Big House is likely to be electric Saturday night with the Wolverines needing a win, to keep their national championship hopes alive.
Leave a Comment
About the Writer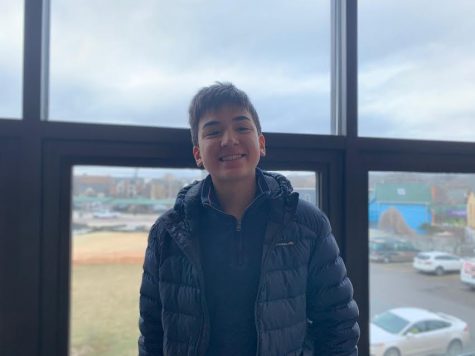 Ben Cooper, Journalist
Ben Cooper is a senior and this is his third year on the Communicator staff. Other than writing and editing articles, Ben enjoys playing basketball, participating in Mock Trial as well as  spending time with his two dogs. He is looking forward to writing all sorts of stories this year, in addition to learning and improving his writing as much as possible.