Kneeling: one year later
On Sept. 18, 2017, then quarterback of the San Francisco 49ers, Colin Kaepernick, knelt during the national anthem. For the first time, another player was alongside him — it was then 49ers safety, Eric Reid.
On Sept. 27, 2018, Eric Reid was signed by the Carolina Panthers. Yet, Kaepernick has continuously been shunned by the NFL, and has been experiencing unemployment as a result.
Reid was drafted no. 18 overall in the 2013 NFL draft by the 49ers. In his first year, he was named first-team All-Pro, selected to the Pro Bowl, and was rewarded with his deserved place on the 2013 All-Rookie team as well. He continued with the 49ers for five years, but fell into free-agency in the 2018 offseason. Eric Reid was a 26-year-old, fully healthy, first-round draft pick free-agent.
What went wrong? What happened is straightforward and clear. Talent on the field was not the issue; however Reid's protests on police brutality and racial inequality was, and he fully comprehended this — which led him to filing a collusion lawsuit against the NFL in May of this past year. He followed in the footsteps of his friend who was in similar circumstances: Colin Kaepernick. Months earlier, in October, Kaepernick filed a grievance for collusion lawsuit against the NFL owners. There are even more similarities as Reid and Kaepernick even share the same attorneys.
"I am aware that my involvement in this movement means that my career may face the same outcome as Colin's," Reid wrote in his personal essay published just a few weeks into the 2017 NFL season. "But to quote the Rev. Dr. Martin Luther King Jr., 'A time comes when silence is betrayal.' And I choose not to betray those who are being oppressed."
The mindset and ownership was different for Carolina. The Panthers had the courage and independence to separate themselves from the ownership of other teams. They looked past the political controversy, and made the move to sign Reid based purely on what he could do on the field. Carolina head coach, Ron Rivera said signing Reid was a "football decision".
Reid played his first game for Carolina in week five of the NFL, and he refused to withhold his political views in the next chapter of his career. Before the game, Reid knelt for the national anthem to continue his protest on police brutality and racial injustice. In his new home, no other teammates protested with him, as every other player continued to stand during the playing of the anthem. Regardless, Reid said, "We as a country have fallen short," and he plans to continue his peaceful protest.
The Panthers separated themselves from the other NFL teams, but they can only do so much. More teams must follow their lead and find Kaepernick a home. He still remains out of a job even with several teams lacking severely at the quarterback position, many of which have the money and resources to sign him. Yet even one year later, they still shy away from putting their franchise in a political, controversial position.
"Anybody who has a basic knowledge of football knows that his unemployment has nothing to do with his performance on the field," Reid wrote about Kaepernick. "It's a shame that the league has turned its back on a man who has done only good."
Nike had the courage to reach out to the man "who has only done good", and put their business on the line by partnering with Kaepernick to send out a powerful message. The world's largest supplier of athletic shoes and apparel worked with him to create a commercial titled, "Dream Crazy." It is a montage of clips narrated by Kaepernick that highlights inspirational sports-related stories like his own. Around halfway through the commercial, he says, "Believe in something. Even if it means sacrificing everything." Kaepernick then concluded the advertisement by saying, "Don't ask if your dreams are crazy. Ask if they're crazy enough." This powerful, final line resembles the life he has lived, since putting his career on the line after the first time he decided not to stand during the national anthem.
The commercial release sent Nike's stock to an all-time high along with a drastic sales boost. The commercial not only aided Nike financially, but it also assisted in a gain of  roughly 170,00 Instagram followers.
One year later: each team refuses to take a risk, and continues to give into their fans, calling Kaepernick's protests "unpatriotic". A man who was just simply using the US flag as a vehicle to peacefully express his opinions on police brutality and racial inequality, is still out of a job, but not because of his football ability.
View Comments (2)
About the Writer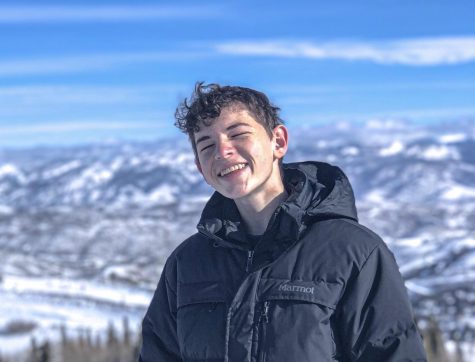 Dan Gutenberg, Web Editor-in-Chief
Dan is a senior and this is sadly his fourth and final year on staff. In class, you'll usually find Dan working hard on the website, editing someone's work or occasionally on SNO unproductively changing his admin color scheme just for fun. Outside of class, if he's not on the soccer field for Pioneer, he's most likely climbing, hiking, golfing, skiing or playing tennis. And he also remains convinced that he can beat anyone on staff in ping-pong, so feel free to lower his ego and challenge him to a match.