Nosetalgia
Five years later Pusha T's debut album, "My Name is My Name," is still as gritty and raw as it was on the day of its release. Although it wasn't Pusha T's first full length project, "My Name is My Name" showed a more refined and sleek sound which contrasted starkly with his boom-bap beginnings as a member of Clipse, the rap duo comprised of him and his brother. An exemplary intersection between Pusha T's rugged mixtape past and his polished EP future is "Nosetalgia."
A 2013 "Good Kid M.A.A.D City" Kendrick Lamar, teams up with a "Cruel Summer" Pusha T to deliver hard-hitting, no-nonsense verses; Pusha T delivers an uber-confident soliloquy while Kendrick spits a more reminiscent narrative. Both verses touch on their adolescence and their personal experience with the drug epidemic. Pusha T represents a tenacious opportunist who used the era's shortcomings to his advantage while Kendrick voices a victim, whose community is entangled in a phenomenon beyond its control. The verses are full of allusion and imagery, not to mention seemingly endless jargon. Overall, the lyrics are entertaining and engaging enough for any listener.
The production on this track is where it deviates from many of the pop-influenced tracks such as "Let Me Love You," and "No Regrets." The beat is simple and repetitive; there's no heavy bass or incessant hi-hats, just a captivating guitar riff and muffled drums. The beat is gloomy and foreboding: Its monotony and leaden pace shifts the spotlight from the production to the lyrics, a persistent style in Pusha T's earlier
work.
Overall, "Nosetalgia" is a laid-back track which gives listeners a lot to digest without being overly sentimental or "deep." With graphic bars, quotable one-liners, and great chemistry, Pusha T and Kendrick shine.
Leave a Comment
About the Contributor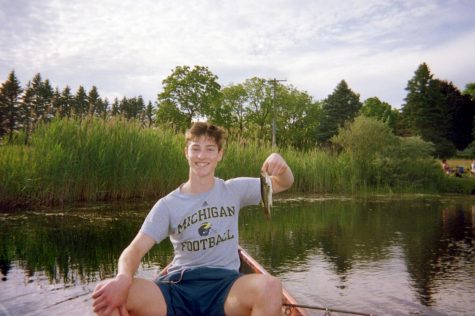 Jordan De Padova, Managing Editor
Jordan De Padova is a senior who splits his time between both Pioneer and Community High School. He is a Managing editor going into his third year on staff who loves to listen to, talk about, and write about music. Jordan owns 4 pairs of white Reebok shoes and is most proud of his position as "Line Leader" in Mrs. Gerhart's 5th grade class. In the future he hopes to scuba dive and produce a Billboard Hot 100 song, but as of right now he's enjoying Mock Trial and giving free rides.