Life after Community: Risa Gotlib
When Risa Gotlib was 14 years old, she started practicing yoga at Ann Arbor School of Yoga and practicing with Laurie Blakely through the Community Resources Program at Community High School. She was simply trying to fulfill her high school fitness graduation requirement; she didn't know then that yoga would become a large part of her life.
Community High gave Gotlib a place to explore herself and discover who she was without punishment. "At Community, you have a lot of freedom to be able to be who you are without it being punished or labeled as bad or — all of the different things that happen with kids when they are going through those formative years of trying to figure out who they are."
Gotlib graduated from Community in 2002 and went on to attend the University of Michigan. It wasn't until then that Gotlib got serious about school. After switching her major three times and five years of undergrad, Gotlib graduated in 2007 with a double major in Biology and Psychology, and a minor in Women's Studies.
Not knowing what she wanted to do, Gotlib filled her car with clothes and moved to New York; she wanted to experience something new after living in Ann Arbor her whole life. Gotlib stayed in a friend's dorm for a month while she searched for a job and place to live. She eventually found an apartment and a job at a television production company as the director of marketing. The company produced fashion runway footage; Gotlib had a background in retail, working at Vintage to Vogue in high school as well as a background in psychology, so she did well there but wasn't satisfied.She worked there for about eight months and then quit in the spring of 2008 without a backup plan figuring everything would workout, shortly thereafter the economy completely fell apart and Gotlib was unsure of her next steps.
Trying to figure out what she wanted to do next, Gotlib decided to visit her mom in Chicago. While she was there she met the Midwest Regional Director of Sales for the high-end mid-century modern furniture company Design Within Reach. Gotlib talked to him about being stressed about the economy and not having a job. The director urged Gotlib to send him a copy of her resume.
A week later Gotlib found herself in the Design Within Reach corporate offices in San Francisco. The company wanted to hire her to manage a new venture they were hoping to start. "It was the mid-century modern lovers answer to home accessories," Gotlib said. "Their main bread and butter was couches and chairs and then they wanted to get into all the other home stuff, too."
Gotlib was once again working retail, which wasn't ideal, but it was for a company she liked. After managing the new homeware store for about six months she was transferred to one of the company's furniture stores.
Working at the furniture store, Gotlib was frequently selling to designers and architects. Donning her MOSCOT glasses, she was complimented on them frequently. Sending so many people over to their store, Gotlib joked that she was selling the glasses at the same time she was selling furniture.
One day a women visited Design Within Reach in search of new lamps. As Gotlib was helping her, the woman noticed her glasses. After they got to talking, the woman mentioned that she was the director of marketing for the eyewear company. Gotlib helped the woman find what she was looking for and just before she left, the woman suggested they grab coffee sometime; they exchanged information and decided to meet a week later.
The morning of the coffee date Gotlib received a text from the woman reading, "By the way the owner of the company, Kenny Moscot, is going to join us for coffee." Not being sure what this meant, Gotlib threw a resume into her bag.
At the coffee shop, Moscot pulled Gotlib's business card out of his wallet. "We sat down, and he had my business card from the company I was currently working at, he put it in front of me and told me, 'I've been carrying around for three months,'" Gotlib said. "'When I first met you, I thought I needed to bring you onto Moscot, and for the past several months, I've been trying to figure out how."
Over the next several months Gotlib and Moscot met over coffee many times to discuss her professional aspirations and what was needed from Moscot to leave her current position. Soon they came to an agreement that she would become the director of sales for their international and domestic wholesale.
After beginning the job, Moscot and Gotlib became very close. "I became his right-hand," Gotlib said. "I was going to Europe twice a year for these big trade shows. It was super fun and I thought the company was amazing."
But one day Moscot was having pains in his leg. He went to the doctor and learned that he had a rare form of muscle and bone cancer, and within a couple of months he had passed away. "It was so traumatizing because he was my mentor, my boss, and my friend. It was so upsetting," Gotlib said.
After Kenny's passing, his brother ended up taking Moscot over. With him wanting to change the whole structure of the company and Gotlib's job position, she decided she was no longer going to stay there.
After a visit home for the holidays, Gotlib returned to New York in search of another job. Per a recommendation from a friend to work at a tech company Gotlib took a job at LifeBooker where they were starting to tinker with API integration.
Making good money, but not happy with what she was doing or where the company was heading, Gotlib quit her job again. "It wasn't really that inspiring, I wasn't doing anything good for the world and that's right around the time that they started doing discounted lip injections,boob jobs and liposuction, and I was like, 'This is wack, you guys are just making women feel bad about themselves, and trying to sell them everything possible.I'm not into it.'"
Not knowing what she wanted to do, Gotlib spent about eight months living off of her savings. She became depressed and decided she just needed a reason to get out of bed every morning. She decided she would go to a yoga class every day and got serious about it.
Considering moving to India for a year to find herself, Gotlib consulted her dad. Her dad, a psychiatrist, pointed out that all she would be doing is running from her problems.
Knowing Gotlib was thinking of moving back to Ann Arbor, a friend from Community contacted her about a possible job opportunity at a Detroit startup in search of a director of sales. After negotiating a salary with the company, Gotlib moved back to Michigan.
"I worked there for about three months," Gotlib said. "And then I realized I was doing exactly the same thing I had been doing in New York, but for a company that was less developed and that had less direction. I was super unhappy, and I was commuting to Detroit every day."
Remembering teaching yoga on the roof of her apartment building in New York, Gotlib decided to go through with yoga teacher training. She began teaching upwards of 27 classes a week at numerous studios around Ann Arbor in addition to taking on several private students.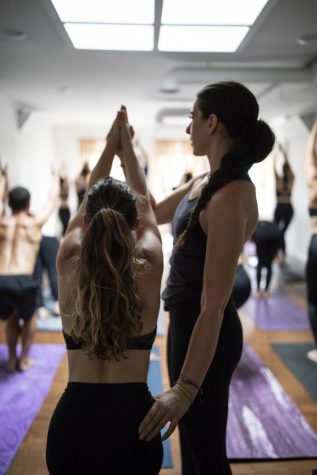 After a year and a half bouncing from studio to studio every day, Gotlib realized she didn't want to work for anyone other than herself. She decided to open her first studio which she named Tiny Buddha Yoga. Previously a dentist office, Gotlib secured the about 1,100 square foot space on Pauline Blvd.
Opening her first studio, Gotlib struggled most with the uncertainties of it. "I was nervous. are people going to come, are people going to like it? Am I thinking that I'm too cool?
With success at her first Tiny Buddha Yoga studio, Gotlib decided to open a yoga clothing store on State Street. About eight months after the opening of her store, an architect's office on State Street opened up and Gotlib opened her second studio there. Just over a year ago, Gotlib opened a third location in Ypsilanti's Depot Town. When she opened her third studio she decided to close the clothing store so she could focus more on the studios. Tiny Buddha Yoga has been voted the best yoga studio in Washtenaw County for 2016, 2017 and 2018.
"Everybody who I'm surrounded with is so fantastic and positive," Gotlib said. "Whenever I'm doing stuff with the studio, and whenever I'm teaching yoga, it's amazing. We're creating this energy in each of the studios. I'm part of it. I don't even feel like it's just me, right? We're all doing it together. It's really an amazing community."
About the Contributors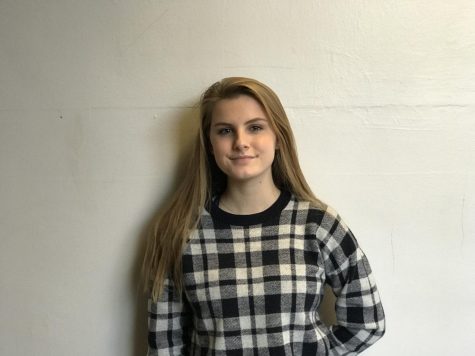 Sophia Rosewarne, Managing Editor
Sophia is a junior at Community. This is her third year on staff and she is a managing editor this year. In her free time she works at Sparrow and tutors at Peace Neighborhood Center. She plays tennis at Skyline in the spring and likes to snowboard in the winter.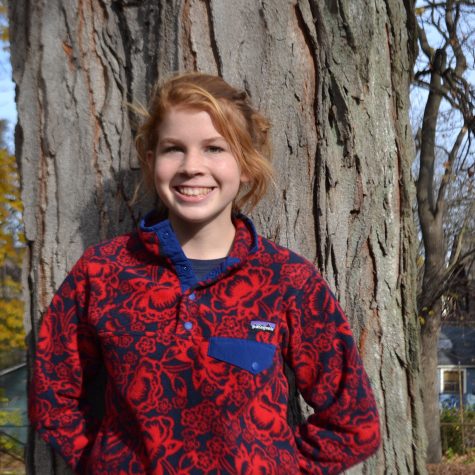 Bella Yerkes, Mentor
Bella enjoys watching Law and Order SVU, playing lacrosse, being with friends, leaving the gym and her shark pencil case. She loves gluten free food, and loves to talk about being gluten free. She loves dogs but is afraid of them when they weigh less than 5 pounds.