The process behind the punch
Jake Grammatico wrestles and plays football and lacrosse at Skyline High School. All three sports are very physical, aggressive, and intense. During one of Grammatico's home lacrosse games, he got into a fight while defending his teammate, Kalen Boner. One punch was the difference between Grammatico sitting out, or playing in the next three practices and two crucial games following the incident.
"I think the MHSAA should man up because it's an aggressive sport," Grammatico said. "That's their fault!"
Grammatico strongly feels that he should not have been punished with game and practice suspensions because it is an aggressive sport, as lacrosse includes players hitting and checking each other. It is a fast-paced sport that can be emotional for any player who is playing their heart out shoving and hitting to gain possession and score the next goal.
The MHSAA (Michigan High School Sports Association) decides the punishments for fights during sporting events. MHSAA's rules state that if a student gets into a fight, they are suspended from practice for two to three days and the following game, however, this depends on how serious the fight is. They allow the players to practice because sometimes practicing can be even more of a punishment in some cases.
"Now, if [the specific fight] has malicious intent, then we have to reconsider that it may be something that goes to the school such as fighting game after game," Skyline athletic director Robert Wellman said.
The school really only decides if the athlete is allowed to practice with the team. The coach, however, is sometimes allowed to talk to the referee if one of their players was defending another, or if they do not agree with the call. But, this does not mean that the coach can argue every time there is a fight because the referees do not usually listen to the coaches if they do not have to.
All games played by US Lacrosse rules do not condone fighting. Players who engage in fights must be removed from the game with at least a one-game suspension. These are the rules for all levels of lacrosse. Under the US Lacrosse rules, penalties can be either minor penalties (two minutes), major penalties (five minutes), or match penalties (five minutes + ejection from the game).  
Alec Simon, a freshman who's been playing lacrosse since second grade agrees that lacrosse is a physical sport. He agrees with Grammatico, disagreeing that players should receive a one or two-game suspension for getting in a fight, feeling that exceptions should be added for fighting.
"There shouldn't be a game suspension if I'm sticking up for my teammate or if I have to defend myself," Simon said.
Lacrosse teams such as Skyline High School tend to become a brotherhood both on and off the field. A strong connection between the players form to the point where if one teammate is hit from behind or punched, his teammates will jump in and have their back. Defending yourself is important because there are a lot of aggressive players who are bigger, and even if they are not bigger they still can be highly aggressive. If one player throws a punch at another player, he should not punch back right away, however, if they grab him or are constantly punching him, then he should be able to defend themselves without getting punished for it.
Leave a Comment
About the Contributor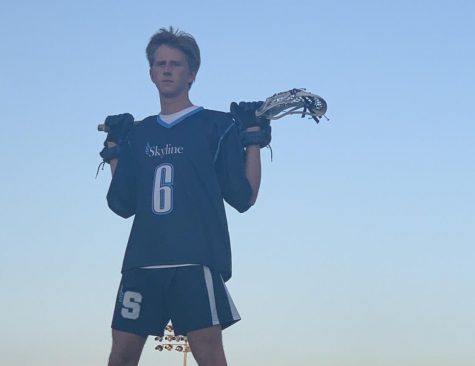 Zack Schueler, Journalist
Zack Schueler is a senior and this is his third year on staff. He enjoys playing or watching most sports, and of course, hanging out with friends. Zack plays lacrosse for Skyline, and loves to snowboard, hammock, and travel. He hopes to travel the world with friends and family. Zack looks forward to his last year on staff.