Life after high school
The atmosphere in the halls of Community High makes it very apparent that the student body has great things in store. Seeing the little things that have been put together by students, like the murals, artwork, and posters, shows the creativeness and potential of Community students. With all this potential, how do Community students decide what they want to do after High School?
The stress of college applications, and choosing majors is often one of the hardest decisions a student is faced with. On top of making college decisions, students have the obligation to decide what to pursue as a career.
Community High sophomore, Leah Dewey has chosen a career path that is out of the ordinary: Zoology.
"For as long as I can remember I've always been interested in animals and I always wanted to know what my cats and dogs were saying when they were barking," Dewey said "When I was in middle school, I started watching 'Criminal Minds,'where they were always talking about human behavior and I had always wondered if there was a job about animals and behavior, and there is, which is zoology."
Dewey was first influenced by her friends' sister, who introduced her to the idea of zoology by taking her to a bird rehabilitation center.
"I eventually started working there, and in the following couple of months I got to meet some amazing people and animals, which just really inspired me".
On the other hand, Sophia Muraski, a freshmen at Community is looking into becoming a lawyer, a high demand job that requires lots of schooling.
"My dad was an attorney and I looked up to him for a long time. I have also been through a lot in my life and just want to help people," Muraski said. "I really thought about it and I realized I could be an attorney, and I kind of just started working for it."
Although Muraski is choosing a more traditional career, sophomore Erin Simmons is taking a different approach with her career choice by following her passion: musical theatre.
"I've always had an interest in musical theatre," said Simmons. "But when I decided that it was something I actually wanted to do as a career was a couple years ago."
Simmons passion derived from her experiences with musical theater which overall pushed her to want to pursue something far from traditiona l"I was in this camp that was pretty much a week long simulation of what life on Broadway is like, and the process, how it is and you learn a lot of stuff about it, and it was hard but it was really fun. And it really just hit me, I can't imagine doing anything else now," Simmons said.
Unlike Murasaki and Dewey, Nora Berry, a freshman at Community is a spur of the moment type person. She has ideas floating around, but does not have set plans for life after high school.
"I want to have a lot of skills under my toolbelt, I'm a very 'just do it' person, I don't really have outlines for things that I do more or less". Berry said
"I would love to go to law school not necessarily to be a lawyer but just to know what my rights are," Berry said. "I am quite the activist, so knowing specifics about things like that would be very helpful in that regard"
Berry does not have a complete outline for the professional world, but she does have a few options on what she would like to pursue later in life.
"Knowing how to be an aesthetician and a hairstylist would sort of just be another way to make money not necessarily professional but just in general," Berry said. "I'm huge on knowing about black hair in particular and learning how to have a healthy relationship with it, so going to an actual school where they can teach you that and where I can have more knowledge about it would be ideal."
Life after high school is frequently a tough subject for most high schoolers to face, but Sophia Muraski, Leah Dewey, Erin Simmons, and Nora Berry are approaching it head on. 
Leave a Comment
About the Contributor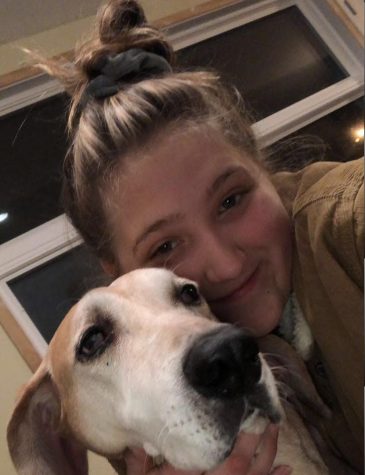 Sophie Nunez, Writer

Sophie Nunez is a Sophomore at Community and it is her first year writing for the Communicator. She loves animals and spends the majority of her time riding horses, spending time with her bunnies and playing with her dogs. She also enjoys volunteering with rabbits and horses in need.  She loves watching David Dobrik and Cody Ko. She also enjoys blasting Lady Gaga in the car with her best friend Hope. She talks very loudly all the time which can occasionally be annoying.