An Evening With Audra McDonald
As the lights dimmed at 8:00 PM at the Hill Auditorium in Ann Arbor, MI, the full house audience roared in applause as Audra McDonald waltzed across the stage, with her long, black, flowing dress swaying across the ground.
Audra McDonald, 48, is a six-time Tony Award winning Broadway actress and singer. She's best known for her work as Billie Holiday in "Lady Day at Emerson's Bar and Grill" on Broadway and as Madame Garderobe in the live action remake of "Beauty and the Beast".
"I love coming to Ann Arbor," McDonald said. "I love to meet all the students and get some lemon poppyseed cake from Zingerman's too. I couldn't get any this time because I'm on a diet but some of my band did."
McDonald came to Ann Arbor as a part of her "An Evening With Audra McDonald Tour."  Throughout the show, she sang songs from big Broadway shows and famous musicals.
McDonald started the show by singing her first song "I Am What  I Am," a song from the Tony Award-winning Broadway musical La Cage Aux Folles.  "This song is so powerful," McDonald said. "It's such a powerful song that states how we should all feel about ourselves."
As McDonald continued singing she sang a song that really ties to a memory in her past. "I went to a professional arts junior high school and high school," McDonald said.  "When I was 13, I was in a talent show and I sang this song. I won the talent show, but one of the judges was surprised that I knew a song about issues so much more mature than I was."
Halfway through the show,  McDonald sang world renown song "I Could Have Danced All Night" from the movie My Fair Lady. "Everyone sings this song," McDonald said.  "Everyone from Julie Andrews to Audrey Hepburn to men in drag. Because of that, I thought it would be too popular and decided not to do it. But my friends insisted that I must sing it."
When the end of the song neared, she encourage that the audience sing the last verse of the song and she followed along with them.
"If you've ever seen one of my shows," McDonald said. "You know I'll make you guys (audience) finish [the song]."
Later in the night, McDonald sang "I'll Be Here" from the musical Ordinary Days. The song was about a wife losing her husband in the World Trade Center on 9/11.
"I know this horrific event was such a long time ago," McDonald said.  "But it seems like we go through a little bit of it everyday [with all the shootings]. I still cannot believe it was 17 years ago. I was in California [during 9/11] and my oldest daughter was eight months old. I was holding her tight the whole day and not letting anyone else touch her. Even though I wasn't living in New York at the time, I'm still a native there, and felt so broken and sad the entire day."
As the audience reflected with sadness and grief from that day in history. McDonald followed up the sorrowing moment with her final song, "Climb Every Mountain" from the musical The Sound Of Music.
"Stay kind and humane," McDonald said. "Keep your inner human true to who you are."
When she finished the song, the audience gave McDonald a standing ovation erupting in the sounds of clapping, and whistling. McDonald's piano player stood and walked her off the stage.
As a surprise, McDonald came back out for an encore. As she walked back to her microphone, she picked up a bouquet of flowers an audience member gave her and the crowd grew even louder.  "This very last one is to the little kid within all of you," McDonald said. "A reminder to stay young." As her band played behind her, she went on to sing "Somewhere Over The Rainbow," wrapping up the the evening with Audra McDonald.
Leave a Comment
About the Contributor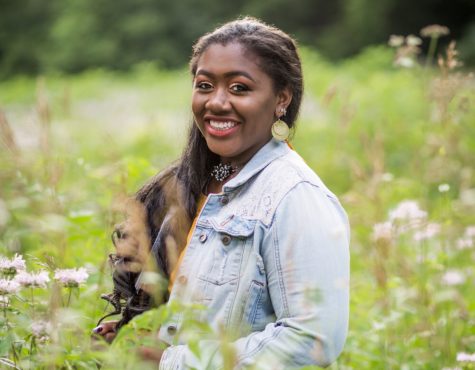 Sophia Scarnecchia, Journalist
Sophia Scarnecchia is a senior at Community. This will be her third year on the Communicator staff. You can either see her buying Frappes at Sweetwaters, working the registers at Kohls, or fighting for racial equality in Black Student Union. She also enjoys going for long walks and playing fetch with her dog, Vinnie.