6 Summers
A chilly Nov. evening is the perfect time to sit down and enjoy the positively and politically-charged summer anthem "6 Summers" by Anderson .Paak, off his newest album "Oxnard," which was released on Nov. 6, 2018.
The first line by .Paak references "Trump's love child," which according to Genius.com, references an alleged rumor that Trump indeed did have a love child with a housekeeper, brought to tabloid magazine "The National Enquirer" on April 12, 2018, by a former doorman at the Trump World Tower.
.Paak's break revolves around the idea of a love child of Trump, whom he wishes that the love child has traits that directly oppose Trump's racist, homophobic and xenophobic rhetoric. "I hope that b*tch is buckwild // I hope she sips mezcal, I hope she kisses senioritas and Black gals // I hope her momma's El Salv."
However, I imagine this love child as a product of Trump's presidency: essentially a strong immigrant with a wild side. While this might be a more positive spin on the end result of Trump's administration, I believe that the love child character serves as proof that good can come from any form of prolonged evil.
Following this break, there comes an interlude with a woman speaking in a fast-paced and stern voice, reciting the famous, and currently somewhat co-opted activist poster phrase from jazz musician Gil Scot-Heron's titular song and poem: "The revolution will not be televised." However, this lyric elaborates on the original quote, relating it to the current climate of activism within social media and performative activism, continuing the phrase by adding "But it will be streamed live // In 1080p on your pea-brained head in the face a** mobile device // Alright?"
If you're living under a rock that doesn't have Youtube or any video streaming through it, let it be known that 1080p is a mode of video displaying a certain amount of pixels: this form of video is most popular with streaming videos online.
Diagnosing this part of the song is important and layered. We can look at the original quote and see that "the revolution will not be televised," because the activists will most likely be in the streets enacting real change instead of showing up on TV and talking. By adding on the idea of streaming a revolution live and in 1080p for the viewer, it adds a comment on performative activism. The "pea-brained head" mentioned in the song will then be able to see the activism on the streets via streaming but will still choose not to participate: an example of performative activism where someone might watch the revolution unfold but do nothing to help.
Now we meet the end of the song, with the ending chorus, that has already been repeated multiple times during the song. "This sh*t gon' bang for at least six summers // But ain't sh*t gon' change for at least three summers." The six summers, for me, reference how long .Paak's song will be a "banger," or a summer anthem. Yet, the three summers are the amount of time America will have to endure Trump's presidency.
There is something so visceral about releasing a summer anthem with a base of realism at the beginning of the cold and dark winter. .Paak is not trying to be positive about Trump's presidency or trying to create an activist anthem. It acknowledges the current state of activism and offers no solutions, except to endure the next couple of summers: for me, this is more refreshing than any coded activist anthem.
Thank you Anderson .Paak, as always. His melodious choruses, interludes and commentaries are found all over "Oxnard." Do yourself a favor and listen to his songs with your own interpretation and your own freedom.
Gina
Leave a Comment
About the Writer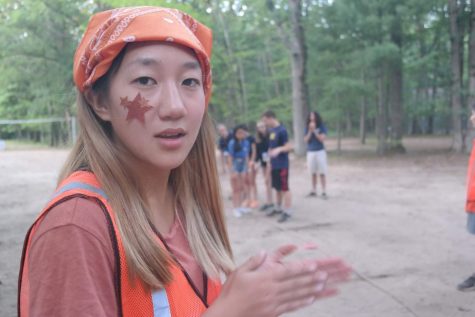 Gina Liu, Website Editor-in-chief
Gina Liu is a senior and is currently serving as a co-Website Editor-in-chief for the second year. She hopes that her experiences junior year will help guide her not only in web design/management but in life. She still loves mockumentaries, playing cello and playing varsity tennis over at Pioneer in the springtime. Additionally, she has problems remembering to drink water, and problems remembering things in general. She also placed second in The Communicator's first "Sliced" challenge.