Savante Daniel: The process behind reaching a state championship
It was a rainy, thunderous afternoon on the first day of June when the gun fired. Savante Daniel launched off his starting block and began his race in the 400-meter dash. Daniel was not only racing for himself but also was representing the entirety of his high school, as he was the only 400-meter runner for Skyline High at the state track competition.
For as long as he could remember, Daniel always wanted to run as fast as he possibly could, which was thanks in part to his idol that he found in the 2008 summer Olympics: Jamaican track athlete Usain Bolt, who was and still is the fastest man on the planet. As a child, Daniel wanted to run like Bolt but was unable to participate in track during his time in elementary school. But as spring approached during his first year at Forsythe Middle School, Daniel finally got his opportunity and didn't hesitate for a second.
As a sixth grader, Daniel enjoyed running and thought of it more as a time to have fun, rather than a competition. At the time, Daniel didn't think of himself as abnormally fast, rather he just enjoyed spending time with a place outside of the classroom. For this reason, Daniel decided not to run during his second year of middle school, to hang out with his friends off the track. It was only until then with he realized how much track had grown to be a part of his life and that he wanted it to be a part of his life for years to come. The following year Daniel rejoined Track and his passion was evident as he was improving rapidly and winning nearly all of his races.
Three years later, following his conference championship victory, Daniel took the starting blocks at Regionals for the 400-meter dash, with nothing else on his mind but winning. Many people may believe this is an overconfident approach to running, but Daniel believes that this is the mindset that is needed to be victorious in a sport that is so mentally challenging. "the 400-meter dash always sucks while racing, you can't change that," Daniel said. "You just have to get that through your mind, and just get out there and think about how great you will feel when you finish and know you gave it your all".
As he approached the finish line, he realized how difficult his competition truly was. 300 meters into the race and the race was neck-and-neck. Then Daniel turned it on and powered through to the finish line, earning first place and giving himself a new 400-meter PR (personal record), at 50.49 seconds. Now due to his first-place finish, Daniel had no time to celebrate and was now focused on states, where he would be competing at East Kentwood High School in Grand Rapids.
Daniel believes that many people would be content with a first-place finish at Regionals, but he knew that there was much he could still accomplish. Daniel realized that the competition would be much tougher in states, and it was because of this that he increased his training and made sure he was working out often outside of practice. Daniel trained rigorously for the next following two weeks, and was know the fastest he had ever been.
As he arrived at East Kentwood High, the rain was pouring on the outdoor track and thunder was delaying the race. Eventually, the thunder stopped and the runners took the starting line, but the rain continued and the runners realized that they would have to run in hazardous conditions. "You always have to focus on winning, but on that day I felt like there was always something in the back of my mind, thinking about what would happen if I slipped, Daniel said. "How bad I would look in such a high level competition."
Leave a Comment
About the Writer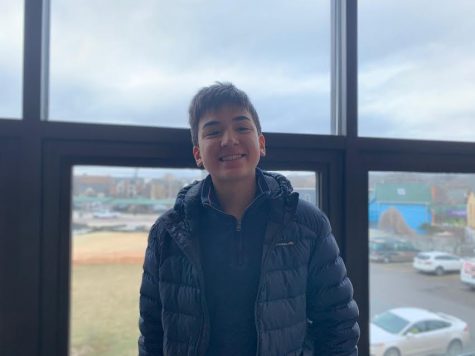 Ben Cooper, Journalist
Ben Cooper is a senior and this is his third year on the Communicator staff. Other than writing and editing articles, Ben enjoys playing basketball, participating in Mock Trial as well as  spending time with his two dogs. He is looking forward to writing all sorts of stories this year, in addition to learning and improving his writing as much as possible.