Raw Human Connection
Standing backstage in Craft Theater just before her first scene, Stephanie Smith was nervous. She had acted in previous shows, but this kind of show was completely new to her.
"I've had some experience with acting on stage," said Smith, a sophomore at Skyline High School. "But I'm used to going into shows focused on how the dance is and how the songs are going to go, and not so much on the acting. So taking those elements out was really intimidating."
Smith believes that theater provides an opportunity to connect with other actors and crew members in a way she cannot find anywhere else. She likes how everyone has to put away their phones and get to know themselves and their characters. Smith, along with many other students from the district, chose to join Community's theatre program, Community Ensemble Theater (CET), over other high school programs in the city.
This fall, CET produced a contemporary show unlike any they have done in previous years: "Love and Information" by British playwright Caryl Churchill. During a typical theatre performance, the audience is asked to silence their cell phones in order to be fully immersed in the show. However, "Love and Information" broke this standard by asking the audience to bring their phones charged and ready to scan QR codes that were projected behind each scene. Each QR code brought different elements into each scene: some instructed the audience to light elements of the scene with their flashlights, while others brought in different sound effects such as bird calls and baby cries.
"Love and Information" is a play made up of 58 short scenes and split into seven sections. As written in the preamble, the scenes can be performed in any order within the section, but the sections must remain in the same order. The script has little to no stage directions, the characters are not named or gendered and there are several random scenes which can be inserted anywhere within the show.  The show asks its viewers to consider how its meaning is constructed and to participate in the process of the performance.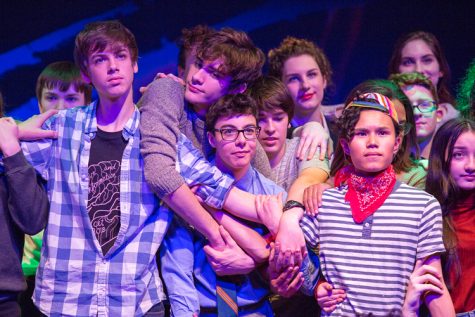 "Usually the audience puts their trust in the performers that they're not going to waste their time and they're investing in something that they're going to enjoy," Smith said. "In this show, the cast is putting their trust in the audience that they'll still stay engaged in what we've worked hard on even though we're allowing them to have their phones out."
Students' reactions to the show varied greatly; some loved the challenging aspect of acting in a show they helped create, whereas others hated the chaos and confusing nature of it. For many students, "Love and Information" was their first show with CET, which resulted in varied first impressions.
"At first, I wasn't sure how to feel about it as a show," Smith said. As a person who typically acted in musical theatre productions, Smith was unsure about where she would fit into the experience. However, once the first run-through of the show was complete, Smith could see where everyone could find their find their niche and their character within the minimalistic script.
"I was confused, but also excited," said Aris Chalin, who assistant-directed the show along with CET President Andrea Schnell. "I didn't know anything besides the name. And then when the rehearsal process started happening I realized what kind of show it was."
Due to the fact that there were no guidelines from the script about roles, it was hard for director Quinn Strassel and assistant directors Chalin and Schnell to cast the show without any idea of what it may become after working on each scene.
"It was a challenge that some of the scenes were more adult so it was hard for some of the students to imagine what they would feel like as adults, parents or elderly people," Strassel said. "It was a lot of work on the front end. But then the actual artistic process was much more in the moment and spontaneous in making decisions quickly."
Strassel first read about "Love and Information" in The New York Times and immediately thought it would be a good show for CET to produce. To him, the avant-garde nature of the show fit the group of actors really well, and the simplicity fit the space that CET works in. Strassel loved how everything came together in the end, and how creative the crew had to be in order to make each scene unique.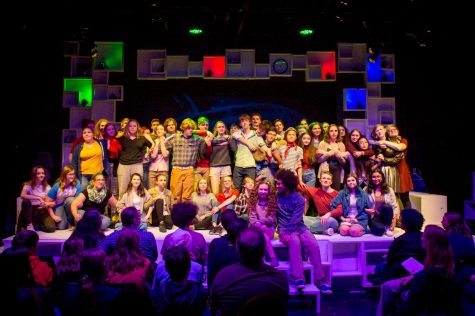 "I think this was the right show for this time in my life," Strassel said. "I've done so many big projects where I have to have [and share] the full vision, and I think this was a time in my life where it was really great to share and to trust."
Having Chalin and Schnell as his assistant directors for "Love and Information" was necessary for Strassel. With only 10 minutes of rehearsal given to each scene at a time, they required complete focus and commitment to be put into each scene. "We would [rehearse] the scenes with all of us in the room and then I would send the scene off with Aris or Andrea," Strassel said. "I'd have to trust that they would get the job done, and they did."
Chalin had mixed emotions about being an assistant director at the same time as acting in the show. He never figured out how to be fully part of the cast, since most saw him as a mentor rather than just an actor. "But it was so much fun to get to dive a little bit into each one of the shows," Chalin said. "People definitely took ownership of their own shows, but I almost felt like I was taking ownership of all of the shows, at least all the ones that I was helping to create."
Schnell learned a lot from assistant directing at the same time as acting in the show and being CET President. "I learned a lot about working with people, I don't think I've ever had as much contact with people as I've had now," Schnell said. "Something I never realized about Presidents and Assistant Directors is that people just ask you questions all of the time. It's crazy how much trust they put in you, I didn't know I could affect someone that much."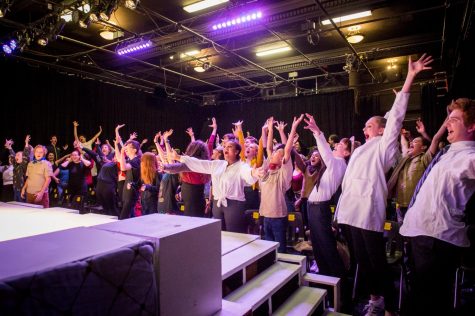 From her first experience with CET, "Too Much Light Makes the Baby Go Blind," Schnell has always felt like she was welcome in the ensemble. She believes that it is impossible for a student to go through a show, spending hours working hard with everyone and going through all the work and tears and love that a show contributes to, and not come out with friends.
"CET is really special because besides just putting on amazing shows, we also have a really great support system," Schnell said. "CET has been the one constant throughout my high school life. I wanted to be president [so I could] help others want to do theatre and make sure it was a safe space and that everyone was having fun."
Leave a Comment
About the Contributor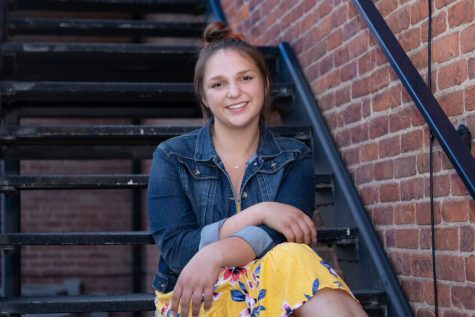 Isabel Espinosa, Managing Editor
Isabel is a senior at Community High School and has been on staff since her sophomore year. Through her stories for The Communicator, she has found a love for writing (especially with the Oxford comma) and photography. She spends most of her time, when she isn't in Tracy's room, either in the Theater working on the latest CET show or with her Yellow Lab, Nala.