The Fashion Page: Nanako Fujioka
"I don't really follow like big fashion designers. I like more what teenagers like. I like how people on YouTube and Instagram are putting their own spin-off of things that they see other people do. Someone that I'm really inspired by is Jenn Im. She is a Korean-American on YouTube, and she started YouTube a while ago — she's been on the platform for a while—, and she just recently started her own clothing line. It's like a mixture of Korean fashion and American fashion. It's very modern but there's also like a '90s spin to it, and it's very cool how she did that. She's really good at styling outfits, so I'll look at her Instagram and get inspired. I'll also just look at like random fashion people; I'm not really specific.
   I'm big on thrifting most of the time. Most of my things are thrifted or hand-me-downs from friends or family. I kind of like thrifting things because sometimes I won't see them in stores, or if I did have something I wanted I'll get it for cheaper. I love searching in the men's section because I can always make [stuff I find there] more feminine. I like expressing myself through [fashion]. You don't have to say anything, everybody sees it. I personally like getting ready and dressing, and I get excited about what I get to wear. It makes me feel more creative in my everyday life."
Leave a Comment
About the Contributor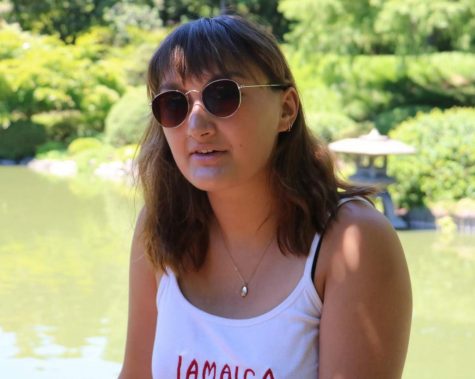 Mira Simonton-Chao, Website Editor-in-chief
Mira is a senior at Community High School and has been on staff for the last four years. She loves writing and The Communicator but also really hates writing staff profiles. She is passionate about American cultural studies, music and living the most vibrant and expressive life she possibly can. She also loves traveling and cooking yum food.