Synchronized Swimming: A look at the start of Pioneer High School's routines season
   Mackenzie Quigley, Community High School senior and team captain, tried to forget her nerves as she stood among her teammates on the humid pool deck of Huron High School. It was the first meet of the routines season, and she was unsure if her team was prepared enough to secure a win.
   "Usually the routines season starts in late February so this meet was a little bit earlier than all of us had expected," Quigley said.
   The high school synchronized swimming season is broken into two mini-seasons: the figures season and the routines season. The figures season involves each team member performing individual skills for a panel of judges. The routines season is comprised of small team choreographed routines. Quigley's team, Pioneer High School Synchronized Swimming, had been so focused on perfecting the earlier half of the season, figures, that their routines had been pushed aside.
   On Feb. 8, 2019, nearly a month before the expected start to the routines season, Huron High School hosted synchronized swimming teams from Grosse Pointe High School and Pioneer High School in a routines meet.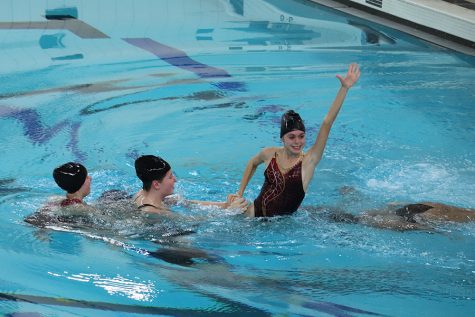 After a short swim time given to each school, where they had access to the pool with both above-water and below-water speakers, the meet began with the judges drawing the order of routines for the evening. The first category chosen was the tech teams — a routine with required elements performed in a specific order to the correct time and tempo.
   Quigley was in three separate routines: the tech team, a free duet, and the free team combo.
   "[Before the meet], I ran through all of my routines and swam through them as much as possible so I made sure I had some good muscle memory," Quigley said. "In my duet, it's a lot easier to think about where I am in relation to my partner since there's only one other person. But also you don't think about it super hard. When you [practice the routines on land], you really focus on drilling spacial awareness and where you're supposed to be in the water so once you get in the water and you practice it kind of just happens."
   Quigley began synchronized swimming 10 years ago at her neighborhood swimming pool; five years later, she began competing. She joined Pioneer's team her freshman year and is now one of the three team captains. Going to a different school than the majority of her teammates is hard for Quigley because the only time she sees her teammates is when they are at practice or meets.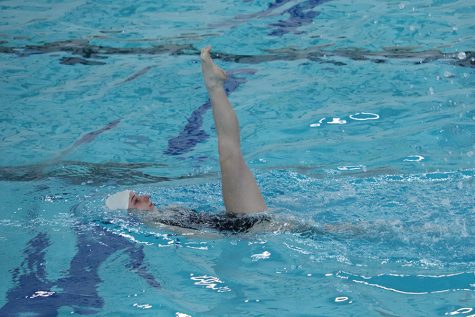 Pioneer's free team combo was where the team really thrived. They began work on the routine before the first figures meet, so there was more time for them to become familiarized with the choreography.
   Combo routines typically have a solo, duet and trio working together to create a large team routine. Unlike the tech routines, combos are pure choreography, with no required skills. Pioneer's team routine had an apparent storyline to it: a soloist damsel in distress being chased by a group of creepy monsters.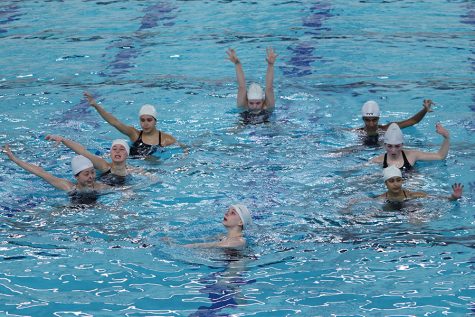 "I was the soloist in the combo, so I didn't have to think about where I was in relation to others because I was separated from the group," Quigley said. "But the other people in the routine needed to make sure they were swimming as a group because they were supposed to be an intimidating gang of monsters."
   Pioneer placed first in the combo routine category. The routine score pushed their overall team score high enough to finish the meet in second place, trailing Huron by just a few points.
   "I definitely thought we were going to come in last but everyone worked really hard even though we didn't have a lot to show off," Quigley said. "I'm happy with where we placed, especially for the first meet."
   Pioneer's next meet is on Feb. 25, 2019, at Huron High School.
Leave a Comment
About the Contributor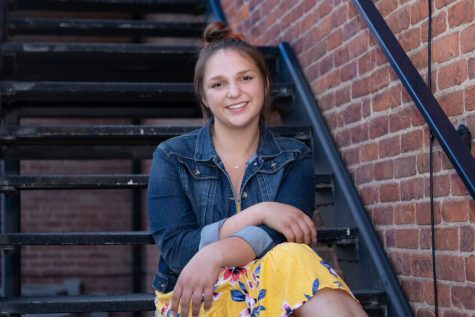 Isabel Espinosa, Managing Editor
Isabel is a senior at Community High School and has been on staff since her sophomore year. Through her stories for The Communicator, she has found a love for writing (especially with the Oxford comma) and photography. She spends most of her time, when she isn't in Tracy's room, either in the Theater working on the latest CET show or with her Yellow Lab, Nala.