Steps from a marching movement
My mother has always raised me to be a feminist, by teaching me that men and women should always be treated equally. During today's political stage, there is no exception. This year she really wanted me to know what true feminists look like, and to always fight for my rights. How did she do this? Together we decided to go to the Women's March in Washington D.C.
The Women's March is an annual march to strengthen female rights. It has taken place since the day after the 45th presidential inauguration. It started in 2017 with millions of women participating in the march all over the country. The largest populated places were being held in Los Angeles, New York City and Washington D.C.
However, this year would be much different. The first march in D.C. had over one million attendees. This year's attendance was a tenth the size of the first march with around 100,000 people. The robust turnout in this year's march is especially striking when you realize that there were also about half the number of nationwide marches being held this year than the 2017 Women's March, and from 2018 to 2019, the number of locations dropped by 20 percent.
This was predicted to be a result of a controversy involving the march's leadership. This taking place after reports of anti-semitism against some of the march's leaders. All coming after two of the leaders were being accused of stating "Jews bore a particular responsibility for the oppression of people of color," at a private organizing meeting. Then more allegations came to light after the march's Co-President Tamika Mallory was criticized for attending an event last year hosted by Louis Farrakhan, the Nation of Islam leaders, who has been denounced for making anti-Semitic and homophobic comments.  As a result, many decided to boycott the Women's March campaign as a whole by simply not attending the marches at all.
My mom and I had always anticipated going to a march in a major city, but we were never full-on committed. This year was different. In November of 2018, just two days after Thanksgiving, we bit the bullet, and purchased our plane tickets and made reservations for our hotel room.  This was the year of accomplishing goals and getting our stuff done. This was the year of the 2019 Women's March.
On Jan. 18, 2019, I was walking down the second-floor hall of Community High School. I had my backpack on and was listening to Billie Eilish songs through my half broken Apple earbuds. Right as I was about to leave the building, I stood at the door and reflected about how long I had been waiting for this moment, and it had finally come. This event had been months in the making, and we were finally doing it.  As I pushed through the door, I felt the cold January air hit my body as I walked across the street, and into my mom's car. With the seatbelt securely around my body, off we went to the airport.
When we first arrived at the airport, we thought the TSA, lines, and boarding would be a breeze, we sure estimated wrong. Through my eager rush of adrenaline, packing my items and planning out almost every detail, I forgot one thing: the government shutdown that had started back in late December was still going on, and I forgot to account for any of it.  Mainly the fact that some TSA employees were either taking time off or not encouraged to work. When we were getting our bags checked, there was little assistance. When everyone got self-checked, nobody was asked to remove their shoes or anything from their pockets. After we got off our flight, the bagging station was empty with no employees to help guide or assist passengers and only one person was available to help with shuttles. Through confusion and misinformation, we had spent over an hour in the airport trying to locate our transportation to the hotel.
Even though my first hour in the capital began roughly, it quickly improved.
With my phone now dead from compulsive texting, and gum soft from rapid chewing to avoid my ears from popping, my mom and I tiredly stepped into the shuttle headed to our hotel. We then plopped into our beds and immediately went to sleep, preparing ourselves for the next day ahead.
On Sat. Jan. 19, 2019, the day of the march, we both woke up at 8:30 in the morning, bright-eyed and ready to start the day. I rushed down to the hotel's restaurant to then end up with my face stuffed full of french toast.  After bundling in new coats and pants for what was predicted to be a cold winter day, we set foot out of our hotel and walked down to Pennsylvania Ave.
As we continued to walk the streets of downtown D.C., women grouped up with us as we walked toward the march's meeting center. The closer we got, the more people joined us, first just three women, then two families, then a cluster of hundreds of people.  Before I knew it, we were among thousands of women of all shapes and sizes. The crowd continued to swiftly grow with people and was full of diversity. Families, friends, seniors, children, and even pet owners with their animals had attended. Local college students were handing out signs to protesters with designs they had created, and other people were selling shirts, hats, hoodies, pins, and even Trump shaped balloons to the crowds.
Thousands of women had gathered at the Plaza of the Ronald Reagan Building, behind the march's organizing committee. The committee members were holding blue cloths on sticks that were meant to represent a large wave. This was because the march's theme this year was 'The Women's Wave.'
When the clock hit 11, it was time for the march to start. Women held up their signs and chanted as the crowd of people started to move. When they passed by the Capitol building, monuments, and even the Trump hotel (in which many people decided to flip off), news reporters were filming and anti-protesters were raging.
At the end of the march at Freedom Plaza, many guest speakers gave speeches. The speakers consisted of women from every minority. As they spoke they talked about their biggest political issues from their point of view and more. As the speeches wrapped up, protesters started to go back home and that had concluded the third annual Women's March.
My mother has always raised me to be a feminist, by teaching me to know that men and women should always be treated equally. She was able to show me this by bringing me to the 2019 Women's March in Washington D.C. Not only was I honored to there, but I was able to make so many memories I'd never forget. Whether it was women chanting "My body my choice," or people singing "Na Na Hey Hey," as they released Trump balloons. I will always remember how strong and beautiful feminism is.
Even though the founders of the march had an argument, tens of thousands of women from all over the country came together on behalf of feminism. Even though there was a government shutdown creating a shortage of airport TSA agents, tens of thousands of women had still shown up from across the nation on behalf of feminism. There is no doubt that there are many people out there who fight for everything they believe in, but I personally believe that female rights are the strongest.
Through its strength and diversity, I am so happy to know that when I look back one day I can say "I was one of those women," and to be able to say that "My small individual self could represent some steps from a huge movement that would go down in history."
Leave a Comment
About the Writer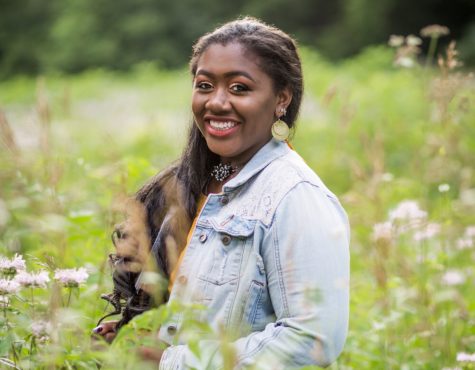 Sophia Scarnecchia, Journalist
Sophia Scarnecchia is a senior at Community. This will be her third year on the Communicator staff. You can either see her buying Frappes at Sweetwaters, working the registers at Kohls, or fighting for racial equality in Black Student Union. She also enjoys going for long walks and playing fetch with her dog, Vinnie.