"Captain Marvel:" Another boundary broken in the MCU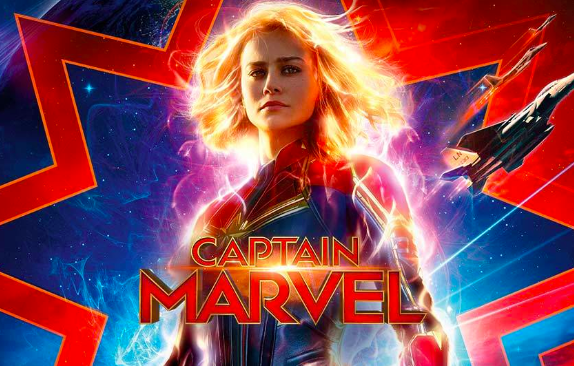 The 21st film of the Marvel Cinematic Universe (MCU) goes back in time for its first film of 2019. "Captain Marvel" takes place in 1995 and highlights Carol Danvers' life from normal human to superhero as portrayed by 2016 Best Actress Winner, Brie Larson.
Ever since "Iron Man" was released in 2008, the MCU has been releasing films at an extremely rapid pace, and now has 21 films and over 21 billion dollars in earnings to show for it. Sadly, the creative leader of the legendary comics from which these movies were born, Stan Lee, passed away at 95 on Nov. 12, 2018. But his legacy lives on, and the MCU plans to release films until at least 2028, according to Marvel Studios' President Kevin Feige.
The film starts by paying homage to Stan Lee's legacy by featuring clips from all of his cameos during the Marvel Studios introduction scene. In addition to the clips, he makes his famous cameo in the film that was recorded before his passing. Another cameo will also be made in "Avengers: Endgame", which will be released on April 26, 2019.
Though "Captain Marvel" is the 21st movie of the MCU, it is a groundbreaking film with one important distinction from all other MCU films: it solely highlights a female main character. This was a huge boundary that the MCU broke with the release of this film, and it was the primary reason it was so anticipated by fans. The film even recognizes the professional struggles women face by showing setbacks Danvers faced when striving to become an Air Force pilot.
Not only did the film feature a female as the primary superhero in a Marvel film, but it also was directed by a woman as it was co-directed by Ryan Fleck and Anna Boden.
"What we're talking about is in every industry," Larson said in a recent interview. "We want to see more representation and more equality across the board in every position. Those are barriers we have to break, but I feel encouraged; I feel like it's starting to happen more and more."
"Black Panther" was also transformative for the MCU, when starring Chadwick Boseman, an African American actor, as the lead role for the very first time in any Marvel film. "Black Panther" and it's predominantly black cast had unbelievable success racking up an astonishing 501 million dollar in box office sales.
"Captain Marvel" showcased new elements never before seen in other MCU films, and the film's non-chronological structure made for a new, unfamiliar experience for all Marvel fans. Not only did "Captain Marvel" utilize a new style of filming, but there were several comedic moments throughout the film. Similarly to "Thor: Ragnarok", which was released in 2017, it is clear that Marvel has given comedy a larger role in many of their recent films.   
But in "Captain Marvel", ample backstory is provided on Nick Fury, the iconic leader of S.H.I.E.L.D portrayed by Samuel L. Jackson. It takes viewers back to what Fury was like in the '90s at S.H.I.E.L.D and the film even explains the coveted reasoning behind Fury's missing eye.
The onscreen combination of Danvers and Fury is what unifies the whole film, and it is easy to see the chemistry between the two award-winning actors. Veteran MCU actor Samuel L. Jackson –– who has appeared in 9 MCU films –– portrays Nick Fury, an excellent sidekick to Brie Larson starring in her first MCU film.
"[Brie Larson] couldn't do push-ups when they started, now she pushes Jeeps uphill," Samuel L. Jackson said in a recent interview. "She is totally dedicated to making this something, the way she empowers women already, you know that she's gonna give this character the qualities that will make any woman, young girl, anybody looking at this wish they could be her, or feel like they could because they have to."
The last movie before "Avengers: Endgame" had to, of course, continue with Marvel's signature theme of teasing the next film in the MCU with a post credit scene. But as the next Avengers movie will mark the end of Marvel's third phase, "Captain Marvel" contained two extra scenes intensifying the long-awaited fourth Avengers film that is just one month away.