Buttigieg isn't "gay enough" for all Democrats?
As the 2020 presidential election creeps closer, the Democratic Party has taken steps towards ruling out potential candidates under the guise of promoting diversity.
Take, for example, the squabble over whether Mayor Pete Buttigieg of South Bend, IN, an openly homosexual and married man, is "gay enough" to run for president: naysayers pointing to his caucasian race, his masculinity and his lack of conformity to outrageously trite gay stereotypes as evidence that his homosexuality does not make him marginalized enough to qualify as diverse.
As I am a young lesbian with many queer friends, the notion that a person must act, look or even think a certain way to identify as LGBTQ+ is absurd. More ridiculous yet is to allow physical appearance to affect whether or not a person should be on a ballot.
Suggesting that someone must act a certain way to be gay is not only an absurd claim for Democrats to be making, but a possibly detrimental one. 80 percent of people in the United States who identify as LGBTQ+ voted Democrat in the 2018 midterm elections. Thus, positing that there are certain stereotypes Buttigieg must conform to in order to be considered acceptably diverse is certain to lose the Democratic Party many queer votes in the upcoming 2020 presidential election.
This dispute over whether Buttigieg is "gay enough" is repugnant in and of itself, but this affair has exposed an even more grim side of the Democratic Party.
The accusation that Buttigieg presents too similarly to his straight colleagues demonstrates not only a lack of awareness about issues queer people face, but an intent to undermine the incredible progress Buttigieg is making towards widespread acceptance of LGBTQ+ people.
In 2008, when Barack Obama — the first African American president —  was elected, there was great controversy over whether he was "black enough." Obama was even asked during an interview why he considered himself black. Now, Buttigieg is the only person in the top three most popular Democratic presidential candidates on Emerson's Iowa poll who is not a straight, white man above the age of 75, yet some Democrats remain unconvinced he is diverse enough to represent them.
By suggesting Buttigieg appears too heterosexual to run for office, Democrats have sent a clear message to their almost 12 million queer voters; we do not care about diversifying our party, we only care about appearing as though we do.
Buttigieg has already made great strides towards political representation for queer people by getting this far into the election as a married homosexual man. And so I say this to the Democratic Party: Buttigieg is gay enough to make history, whether you support him or not.
View Comments (1)
About the Contributor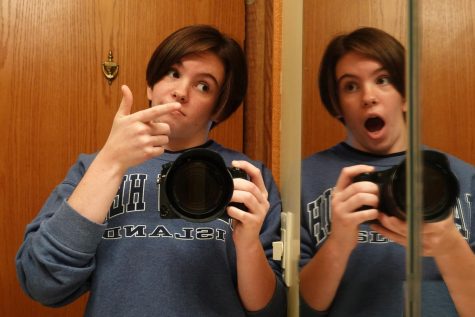 Geneve Thomas-Palmer, Web Editor-in-Chief
Geneve is in her fourth year on staff and her third year in leadership. Her favorite part about journalism is the unique way in which it enables her to interact with people, who all view the world with their own, individual perspectives. Journalism was one of the first things she felt passionate about: she felt a drive to experience and learn, to shift her own view of the world.
When she's not working on the Communicator, she can be found practicing jazz, preparing for a Mock Trial competition or helping run feminist club. Some fun facts about Geneve are as follows: she was born with an extra thumb that has since been removed; she loves to sing and dance, even though she is not good at either.