What Tiger Woods means to golf
It is almost poetic. The "Sunday Red" Nike shirt, over which he wore the infamous "Green Jacket." The childlike smile…  It looks like a kid on Christmas morning… if Christmas were in April and the North Pole was the Augusta National Golf Course. The 1997 Christmas gift? A player that would change the game of golf.
Twenty-two years later, Tiger Woods has done it again. Dressed in his "Sunday Red," standing on the 18th green of Augusta National, "Green Jacket" being draped over his shoulders, Tiger Woods was Masters Champion again.
Tiger's 1997 win at the Masters meant more than record-shattering 18 under round, more than another trophy, more than more than another tournament win, more than the start of the best golf career in decades; Tiger's 1997 win meant changing the face of golf forever.
The Augusta National Golf Club has hosted the Masters, arguably the most recognizable golf tournament in the world, since 1934. With an ultra-exclusive-invite-only membership policy and excluding the membership of African-Americans until 1990 and women until 2012, Augusta National has a diversity problem.  
For 41 years, the Masters was open only to white men, until Lee Elder broke the color-barrier in 1975, becoming the first African American to play at the Masters.
But despite participating in the tournament, no people of color attended the Champion's Dinner — a real dinner held the night before the tournament begins for past winners — until 1997.
When Tiger Woods embarrassed the rest of the playing field by finishing 12 strokes ahead of the runner up, golfers took notice; When Tiger Woods did this at 20 years old, sports fans took notice; When Tiger Woods did this and was the first African American to do so, the world took notice.
Tiger Woods changed what society saw as the ideal golfer.
Lee Elder was at Augusta National that Sunday in 1997. He told reporters that the societal impact of what Tiger Woods just did had "more potential than Jackie Robinson." Lee Elder is the Jackie Robinson of golf, but said Tiger Woods meant more.
And he was right. The impact Tiger had on golf was more than just tackling a racial barrier, he gave golf personality. Tiger made golf likeable.
In 1996, 12.4 million people tuned in to watch the final round of the Masters, in comparison, that is more than the amount of views the other three Major tournaments had combined. Sunday at the Masters is to golf what Super Bowl Sunday is to football. Sunday at the Masters became a Hallmark Holiday for golf fans worldwide; professionals in the field thought that this day had reached its limits of popularity. But they had not seen the impact of Tiger Woods yet.
In 1997, 20.3 million people tuned in to watch the final round of the Masters. To date, that is the most views the Masters has had — 14 percent of all households in America were watching as a black man put on a "Green Jacket" for the first time ever. And the Tiger Effect stuck: every Major tournament had record breaking viewership in a year that Tiger won.
Tiger excited and invited people to golf.
Since Tiger Woods became the number one ranked golfer in the world in 1997, golf in inner cities and predominantly black communities has increased, according to a ESPN study. Organizations like the Tiger Woods Foundation help to bring golf and the more important lessons that come with it to inner-city areas. These efforts are not new, however. People have been trying to introduce these white-washed sports into areas for a while, but the people weren't interested.
Even when golf offered them a seat at the table, nobody wants to be the only person of color there. Now, they wouldn't be the singled out, they saw someone who looked like them at this table. They saw what Tiger Woods did, they saw what they could do.
The Tiger Woods glory days were plentiful: winning 14 Major's in 10 years and ranking number one in the world from August 1999 to September 2004 and again from June 2005 to October 2010. In the 13 years after turning pro, Woods spent nearly 10 and a half years (3,814 days to be exact) as the best golfer in the world.
Then it went to hell. After divorcing his wife, numerous cheating scandals broke and he was arrested for driving under the influence, Woods was in the limelight for the wrong reasons, and his golf game was showing it; he fell to 53rd in the world rankings in November 2011, his first time being out of the top 5 since breaking that plane in 1997. It didn't seem like it could get much worse for Tiger.
Then, the back problem cames. And with them four back surgeries and only two golf tournaments between 2014 and 2018. He dropped out of the top one thousand in the world rankings. People thought this was the end of Tiger. In his early 40s (still very young for a golfer) but having accomplished more than any would have imagined, it appeared this story was not going to have a happy ending.
He told other golfers at the 2017 Champions Dinner at the Masters that he was "done" and that "this is it."
But Tiger, in classic Tiger fashion, wasn't done. He slowly rose up the rankings and won his first tournament in five years at the 2018 Tour Championship, beating players who were toddlers when Tiger first put on his "Green Jacket."
Tiger had made golf something that people care about. Even when he wasn't playing, the foundation he built lasted and golf could stand on its own two feet in the sports world. But Tiger was Tiger. The 2018 Tour Championship ratings went up 208 percent from the year before.
Tiger being good again meant more to golf than another dominant player ever could. People in the golf community hope and prayed that Tiger would once again be in the final pairing come a Sunday at a Major.
But the golf gods couldn't have scripted this better if they had tried:
Twenty-two years later. Tiger Woods, sinking putt on the 18th green. Arms pumping in the air. Wearing his Sunday Red. Hugging his son the same place he hugged his dad in 1997. Putting on the "Green Jacket."
Tiger Woods means more to golf than he ever had before. Not only does he now symbolize breaking the color barrier, bringing a new generation into golf and single-handedly making golf likeable, Tiger Woods is now the face to the best comeback story ever.
Leave a Comment
About the Contributor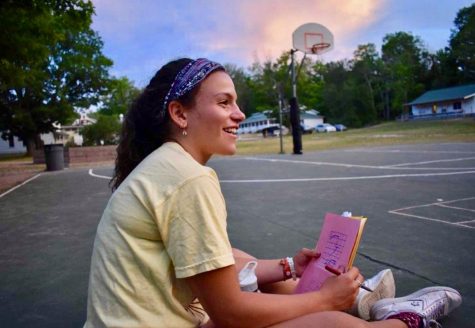 Cammi Tirico, Print Editor-in-chief
Cammi is in her fourth year on staff and is a senior at Community. This is her second year making up 1/4 of the print editor-in-chief team. When not working on The Communicator, she can be found playing golf and basketball for Skyline, lawyering at Mock Trial, singing camp songs off key at Camp Al-Gon-Quian or climbing trees. Cammi's favorite part of journalism is when an interviewee says something special or powerful out of the blue. Two averagely fun facts about Cammi are that 1 ) she is scared of lightning but loves rain and 2) her favorite shape is a triangle.