Album Review "when we fall asleep, where do we go?" by Billie Eilish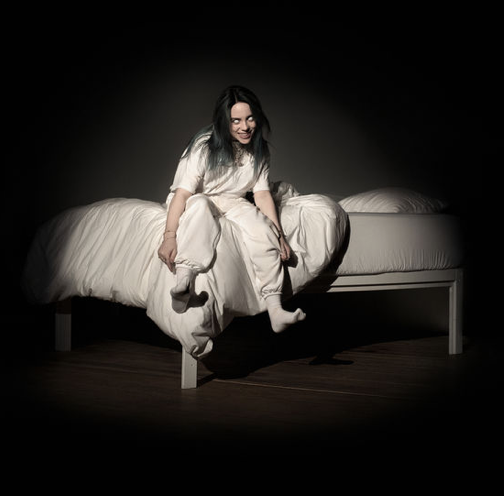 Hang on for a minute...we're trying to find some more stories you might like.
Billie Eilish. The somber, broodying and undeniably lovable teenage music superstar released her first full length album this past month. "When we fall asleep, where do we go" is both a tribute to pop culture and to the darker side of reality. The fun lovin' 17- year- old has been known for her angst, darker sound and this is album is no exception. But that doesn't mean she doesn't have fun.
The singles released pre-album were chart toppers within days, so it was no surprise that the album was highly anticipated. Her haunting yet sincere voice speaks to a lot of the teenage generation, with the heart breaking poetic verses of "when the party's over" to the badass beats and general pissed off attitude of "bad guy" and "bury a friend," the whole album showcases her vocal prowess and her intense emotional range.
To start, the album title "When We Fall Asleep Where Do We Go?" ( a line from "bury a friend") gives you a taste of what inspired this record. She has mentioned in interviews that she has recurring nightmares about relatively graphic subjects, so in her mind it was only natural that she would ask the question: When we fall asleep, where do we go?  
Opening with a 13 second track of Eilish taking out her infamous invisalign, you feel a sense of comfort knowing that Eilish is still her same old unapologetic self. The album take us on a ride through the pessimist eyes of a very special teen. The goofy yet old soul enchants the listener with her views on heartbreak, love, and mental illness. With songs like, "bad guy," "you should see me in a crown," and "bury a friend," Eilish shows us that she is a force to be reckoned with as the deep synthetic beats shake your whole body and her lyrics vibrate your brain.
In her first ep, "Don't Smile At Me," Eilish opened up about her battle with depression and anxiety, this vulnerability connects her deeply with her fan base. She continues her story in, "When we fall asleep, where do we go," with songs like "xanny" and "all good girls go to hell," furthering her message and journey with mental illness
Open and brutally honest, Eilish is a once in a decade singer and performer. Her lyrics, personality and overall visad, makes Eilish who she is, but her soulful and unique voice brings it to life.
She shows off her vocal chops and emotional rawness in ballads like, "when the party's over" and "i love you." In these songs, you can sit back, close your eyes and feel every emotion Eilish is expressing. Eilish isn't just another pretty voice —she has the heart and soul to carry you into her world, a rare and unique feat that many modern artist do not achieve in a lifetime
This album can be found on most streaming platforms (Apple Music, Spotify and Soundcloud).
Track List:
!!!!!!!

bad guy

xanny

you should see me in a crown

all the good girls go to hell

wish you were gay

when the party's over

8

my strange addiction

bury a friend

ilomilo

listen before I go

i love you

goodbye