"Spinning"
  Some days The Left Lanes produce songs that are in-your-face and full of excitement; other days, the combo creates songs that are mellow and full of soul. In their most recent track, The Left Lanes creates an otherworldly song using elements of songs they've used in on-stage performances, as well as incorporates audio components that are only possible on recordings.
  In the months since the last group release, the band has transformed their audio style once again, developing songs that use suspense, unique melodic fragments, and set the band apart from other indie-rock groups, thus setting up their own feel in the landscape of musicians and music groups that continue to arise daily.
  The song begins with an acoustic drum set, which quickly transforms into a mystic series of sounds coupled with guitars which allow for the smooth vocals of Nata Maxey to sweep over the piece. Throughout the entirety of the song, energy is built up and prepares the audience for the climatic burst of excitement that guitarist Noah Hogan provides near the end of the song.
  My only critique for this song is that it doesn't last longer than its current time of two and a half minutes. The conclusion to the tension that the song builds throughout its entirety, feels cut short, and still leaves more to be desired.
  "Bringing the song from what it used to be, to what the recording makes it is completely different from each other" guitarist Noah Hogan said. "The recording allowed us to use techniques like manipulating the drums in the beginning and other things that would be impossible without manipulating the audio source. When you listen to the song on stage it will be totally different from what you hear in the recording, and I think it's really cool that you can have different versions of the same song that you play in different situations."
  As The Left Lanes continue to produce new music, their other songs of Stay , Spinning, and Autumn remain available on all streaming platforms.
Leave a Comment
About the Contributor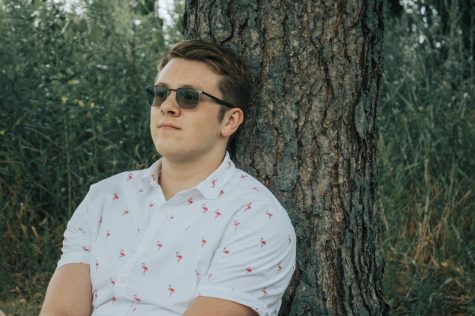 Atticus Dewey, Print Editor-in-chief
Atticus Dewey is a senior at Community High School and is more than excited to start his fourth year on The Communicator staff. This year, he is one of the four Print Editors-in-Chief, but believes that the entirety of the staff is more skilled than any other year prior.
His life outside of journalism is completely absorbed by one thing: water polo. While Atticus doesn't have any free-time because of it, he wouldn't have it any other way. While Atticus has felt stressed and like time has been flying by, he's grateful that he has three other wonderful editors to help him through the process.