Conor O'Neills Secret Science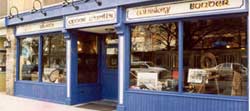 Thea Yagerlener
April 11, 2010
Conor O'Neills Tradition Irish Pub's Celtic Room is packed with people, more than half composed of current or retired archeologists. Academic enthusiasts are here to learn and discuss archeology in places of armed conflict.
As unseemly as it sounds, the University of Michigan Museum of Natural History hosts a Science Café at Conor O'Neills. The Café is held in a casual setting, each organized around an interesting topic in current science, usually having to do with topics local scientists are informed about.
Each meeting is a face-to-face discussion with a local scientist. Conversations are held with a natural air and the presentation strays from straight science talk. Because of its informal setting and language the Cafés are inclusive for those with a limited science background.
This particular Science Café focused on archeology based in areas of armed conflict and unrest, particularly Iraq.
Henry Wright is Professor of Anthropology at the Department of Anthropology and Curator of Near Eastern Archeology at the Museum of Anthropology and traveled to Iraq to help excavate the abundance of sites of ancient civilizations. He worked not as a professor but as a team member.
The team of archeologists has competition. Because of the many historical artifacts, excavation sites are an obvious target for looters. Archeologists and history enthusiasts are willing to buy looted artifacts, supplying a motive for more artifacts to be stolen and sold.
In a site in southern Iraq, over 100,000 holes litter the area, dug by looters. They are crudely dug, damaging artifacts and sites buried.
When artifacts are looted, precious information is lost. Where the artifacts were originally located can help tell the story of that object, but when they are removed without marking the site, as tooters do, some of Iraq's history is lost.
Wright suspects that the large amount of looters destroying history is because Iraq has such an extensive history. Since Iraq is so old and its past so broad, most people feel no connection to such ancient history and thus are not as concerned about preserving it. Especially because some sites are estimated to have existed before Muhammad's time, natives don't feel a strong connection.
Wright and the other team members were supplied with armed "body-guards" because of the possibility of crossing paths with armed looters.
National Geographic photographers also traveled with Wright, so the presentation was accompanied with stunning photographs.
Following the presentation was first a discussion at small tables, followed by an open discussion with Wright.
The easy-going atmosphere allows anyone to understand and join in discussions.
The next science Cafes explore the topics of Evolutionary Science in Medicine (March 20) and Synthetic Life (April 14). Both will be held at Conor O'Neills.