A Final Curtain: Seniors Perform in Their Last CET Show
On Saturday, April 27, Community Ensemble Theater (CET) put on their last show of the year. Called Just Desserts, the show is a 24-hour theater production; the show is written, rehearsed, and performed for the public all in a little over a day's time. Almost everything, including directing, writing and tech, is done by students.
Just Desserts in its current form was first performed four years ago. Since then, it has become a staple as the last show of each year. Besides being fun, Just Desserts is made all the more special by the many seniors for whom this is their last CET show.
"Some of the seniors have opportunities to take leadership roles, directing and writing scenes," said director Quinn Strassel. "It's a beautiful thing to see how they've grown, and to watch them take on leadership and know that they could really do this in the real world someday."
For a few seniors, Just Desserts is their only CET experience, as they want to experience the program before leaving Community.
"I feel like [not doing CET all four years] made Just Desserts this year that much more enjoyable," said first-time CET participant and senior Eve Shikanov. "Because it was a new experience, and I got to sort of go out with a bang with all my friends."
Many other seniors who participated in Just Desserts, however, have been involved in the extracurricular all four years of high school, which made Just Desserts a particularly emotional experience.
"I mean, [have you] ever watched a Netflix show and been so invested in this show?" said senior Jeff Burris. "And then [you] hit the end of the show. And then you just kind of got that gray zone, where you just don't really know what to do it yourself, you just kind of lay in bed and just kind of look at your floor. That's kind of where I am right now, because I've been watching the CET show for four years. [Now] it's done; there are no more episodes."
For many of these CET seniors, the club has been more than just a fun extracurricular, shaping friendships and personalities.
"[Because of CET] I went from a freshman who was not capable of doing many things into the senior who is directing the show," said senior Aris Chalin. "I never thought that would be possible for me, and if I [had] continued with the organization I was doing theater with before, I don't know if I would have had this trajectory and found this self-confidence."
"[CET is] how I met all my people that I still talk to today," said CET President Andrea Schnell. "CET helped me start up a community."
The student community, besides being part of the organization's name, is also what seniors identified as one of the most special parts of the group.
"[What I like the most] about CET specifically is the family aspect," Burris said. "Instantly, you walk into that room, and you have people who are always going to be there for you. No matter what."
"[CET is] special because it's run by kids," Chalin said. "It allows students to take a part in the driver's seat and have this role that is unlike any other organization."
This aspect of community in CET, coupled with the more tangible skills it teaches, such as acting, professionalism, self-confidence and time management, truly shapes and changes the lives of those who have been a part of it.
"CET has been a life-changing experience for the better," Burris said. "I would be much lesser of a person without it."
Leave a Comment
About the Writer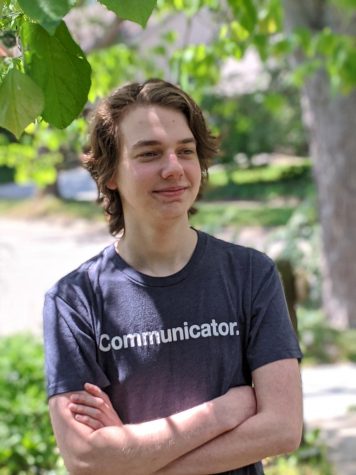 Charles Solomon, Web Editor-in-Chief
Charles Solomon is a senior at community, and this will be his seventh semester on staff. He is excited for many things about the year ahead, but the thing he is probably most proud of is the fact that he is posting this profile on time and not a year late like previous years. When not in class, Charles can often be found starting pointless debates in Mock Trial, practicing Jazz Violin for his combo, or plotting to translate the Communicator website into Tolkien's Elvish. In his scant free time, he enjoys reading books he doesn't have time for, watching bad movies, checking the news, and on special occasions spectacularly losing overcomplicated video games.