Athlete profile: Djimo Kouyate
"I play smart." That's how Community High School sophomore and Huron Varsity Soccer player Djimo Kouyate describes his game. As a sophomore on the varsity team, Kouyate has has to make an enormous leap in order to play at the highest high school level.
As a serious player, Kouyate plays not only for Huron during the fall, but also for his club, Liverpool Ann Arbor Youth Academy throughout the offseason in order to perfect his game. However, Kouyate was not always the elite athlete he is today.
"I was a nerdy kid. I liked to play like Bakugan and other trading card games," Kouyate said. It was in the second grade when all of that changed.
"He's my teammate today, but this Elliot kid came up to me and said, 'Hey, can you come play with us real quick, we need another player,'" Kouyate said. "After that, I ran home and told my dad, ' I want to try soccer.'"
It was a major turning point Kouyate – one he owes his entire proceeding soccer career to. "At first [my dad] was really surprised. He wanted me to be a musician and stuff."
Kouyate said, "But I knew that's what I wanted to do."
Kouyate got signed up to tryout for the local travel soccer program, Ann Arbor United, and made the team. From there he moved up the travel soccer ladder to play for Liverpool. Most important to Kouyate, however, is soccer program at Huron High School. After spending his freshman year playing for the freshman team, Kouyate's hard work in the offseason paid off making the starting roster for the River Rats as a sophomore.
"It was a big change [from freshman to varsity]," Kouyate said. "Nobody got cut from the [freshman] team, so we had all 30 kids running. And well, he took a few from the roster to start the same 11 guys, but one night against Pioneer… he had to sub us out for the other kids… we ended up losing 4-3."
Now on the varsity, Kouyate handles an entirely new environment. As one of six sophomores, he has to take a backseat role to seniors who try to get the most out of their less experienced teammates. "A lot of seniors taught us a lot. And they kind of gave us the lectures and were always nice to us," Kouyate said. "They tried to teach us all they knew before they left the college."
Big things should be expected from this Huron team in the future. With so many young players, the Rats have an opportunity to take control of the SEC in the coming seasons. "We've got about 30 guys in the '22 class in the program," said Kouyate. "[My coach] talks about bringing up six of these freshman… I see the future of Huron Soccer as bright."
In addition to Kouyate six goals this season only expected to increase in the future, it appears that a Kouyate-led Rats team could compete for state titles down the road.
Leave a Comment
About the Writer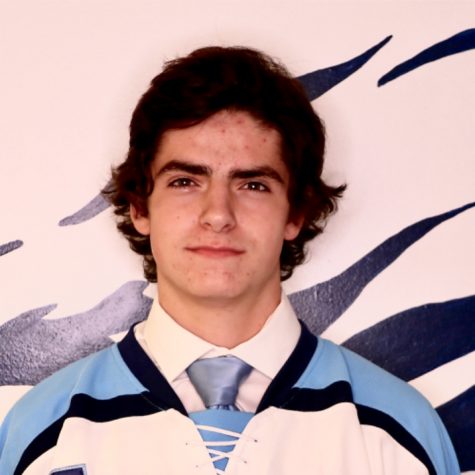 Shea O'Brien, Sports Editor
A fine young journalist of 16 years, O'Brien writes predominantly about sports, his constant the "CR Spotlight", and his upcoming podcast "Milkshakes and Hot Takes" with co-host Andrew Lafferty. A baseball and hockey player at Skyline, O'Brien is known for his love of Tom Brady, Notre Dame football, Boston area teams and Michigan Field Hockey. Take a look at his articles, they appear to be well written with great insight.