From The Archives: How to Create a Strong College Application
It's college admissions season once again as students rush to complete essays and turn in forms before Nov. 1 early admissions deadlines. Tori Essex, a past admissions counselor at the University of Michigan (U of M) Stamps School of Art and Design, worked not just to admit students, but also help them in the stressful period of college applications. Her first tip is to focus on the essay.
"The essays are more important in some ways [than the rest of the college application], especially because it's a more holistic way of looking at an applicant," Essex said.
People like Essex are an underutilized resource at every school. Lindsey Taggart, a senior recruitment coordinator at the U of M's Office of Undergraduate Admissions, wants students to know they are there to answer questions and help with the process. It can be scary to sit down with an admissions counselor or reach out to a school, especially if you are worried about making a bad impression. But visiting the school and starting to email them early can ensure that they know your name, as well as proves that you are a determined candidate and are very interested in their school. Between two applicants that looked very similar on paper, "having that personal connection and engagement made a big difference," Essex said.
"The first part of the job is communicating and connecting with students, and the second part is gauging their fit," Essex said. "What people were usually most surprised about was that I would still talk to them about their overall college search process."
If you are too shy or nervous to email your top schools, Essex suggests practicing with a local school that you would also be interested in attending. Essex said that she and her colleagues were very gracious and accommodating with students. Even if you think that you are being judged, Essex and her colleagues were never in the mentality of judging students or thinking of their emails as silly and uninformed.
In Taggart's case for a larger applicant pool, it's hard to track every student's communication with the school. Instead, students can show their interest with the "Why Us" essay on the application. Taggart explained that it is important to do your homework about a school and its particular programs before writing that essay. Researching academic features of the school and having specific reasons why you want to go really help.
---
But many students wonder what matters the most on their application.
Essex recommends maintaining good grades to show the school you can keep up academically and can listen to instruction. The admissions office looks at applicants on a case by case basis, and at many schools, your grade point average (GPA) is recalculated. This is a positive thing as it levels the playing field, since different high schools may weigh GPA differently.
"If you're taking AP (advanced placement) or IB (international baccalaureate) classes, you are willing to challenge yourself," Essex said, when asked about how AP/IB classes affect your chances. "I think there's a balance. I don't think there's a golden rule that applies to all students."
Taggart said U of M focuses on three aspects of a student's academic application: grades, test scores and how rigorous their course load is. They are looking for students who challenge themselves with what is available for them, and that they don't penalize students with certain classes (such as AP or IB classes) not available to them.
Two applicants can look nearly identical in technical scores, so what makes an application stand out and be able to rise above the rest? For many students, a strong essay makes a huge difference.
"Students would ask if we actually read their essays — yes, we spend many, many hours reading these essays," Essex said.
But a great essay is not an easy task.
"A great essay is respectful, well organized, but then isn't necessarily dry and boring and like a three point [essay] and, it's still showing some personality," Essex said.
Essex said people at the admissions office can easily tell when an essay is "copied and pasted" for multiple schools. To avoid that, write the "Why Us" essays from scratch, even if you are reusing some of the content. Also, make sure to mention visits with the school and show the admissions team that you are dedicated to their school.
The most common mistake Taggart saw in an essay was not using the space to your full advantage. Repeating information and accomplishments already stated in other parts of your application does not help you as much as essays can. Another common error is that the essay is not in the student's own voice and it's clear they have gotten too much help from their parents.
There are ten spots on the Common App for listing activities, but Essex wouldn't necessarily recommend filling all of those spaces up. She finds that listing a crazy amount poses the question, 'how engaged can you really be in all of these?' She suggests "picking the ones that are the most meaningful, perhaps the most relevant to what you want to study."
What are your strongest extracurriculars? Those related to an area of interest, especially opportunities sought outside of school and leadership positions, as well as impactful, self started activities. Essex gave the example of starting an Etsy shop versus joining the ceramics club. The first shares a bit more and shows that you are more willing to push yourself. Extracurriculars outside of school can show that you seek opportunities outside of what is easy.
Hopefully, the seniors reading this are mostly done or putting finishing touches on their applications. Essex compares waiting till the last minute with applications to cramming for a test.
"If you're not ready in October, you shouldn't have to cram to be ready by December." Essex said "Although admissions counselors understand you want your application to be the very best it can be, submitting your application a week before the deadline shows better planning than submitting it the night it's due."
Not only does applying early show the school that you are more committed, it also can take the stress off the rest of the year and get you back your results quicker.
---
Essex also wants to take the stress out of not knowing quite what you want to study.
"It's completely appropriate to continue exploring while you are a student here," She said.
Taggart said that when she was in high school, she picked a college where she was not happy and was able to switch and end up at a better place. She wants to take the stress out of not knowing where you want to go or what you want to do immediately. She also said that the U of M offers many programs to help find their passion and an applicant being undecided does not hurt their admissions chances.
"If you're doing the steps, you're going to end up somewhere," Essex said. "If the student is talking to me, or other admissions counselors, they're taking the right steps."
---
Note – A version of this article was originally published on Oct. 23, 2019. Although many things have changed with a global pandemic, the spread of test-optional policies and the elimination of legacy admissions at some schools, many of the tips still hold today. 
Leave a Comment
About the Contributor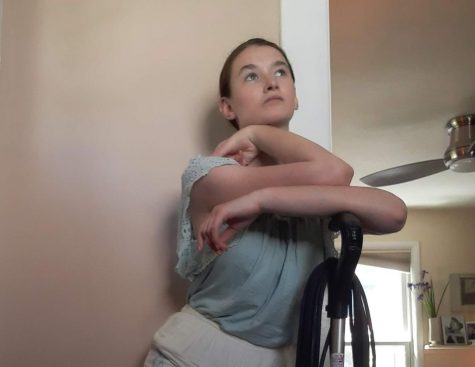 Lucy Tobier, Web Editor-in-Chief
Lucy Tobier is a senior at Community High School and a Web Editor-in-Chief for The Communicator. This is her third year on staff. When she's not transcribing interviews or messing around with website layouts, you can find her walking through the woods and browsing the stacks at the public library. She loves to bake cookies for her friends, rewatch Gilmore Girls and cut apart seed catalogs.