Jenny Slate shines in "Stage Fright"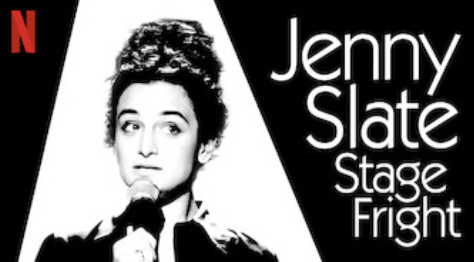 "It feels bad right now," Jenny Slate said to the cameras, teary-eyed and in the midst of describing the stage fright she gets before every show.
It was hours before she filmed the set for her Netflix special, Stage Fright, and that fear had her in its grip once again. It felt like a confessional when watched: raw sadness and frustration, which to some may be out of place in a comedy special. But that vulnerability, the incorporation of that clearly un-funny moment is part of what makes Stage Fright such a force of a special.
It combines the comedy set with documentary footage of Slate with her family and in her childhood home to a magical effect. We read what she wrote on her walls, tour the house her family claims is truly haunted, rummage through the box of things that made teenaged Slate "really mad." They give her bits texture and color and make us laugh, but they also allow for moments of introspection.
"There's a lot of loneliness," Slate said, reading her adolescent gripes about boys and "bullshit."
And indeed, loneliness presents itself as a theme as she discusses divorce, dating again, and her deep need for romance. Slate delivers razor sharp jokes that slice you with their delivery, confronting her fears of abandonment and isolation, and reaching a sort of acceptance through it all. Towards the end of the special, she speaks on what the period post-divorce and of partial-sobriety has taught her in terms of being on her own.
"Recently, I've really learned the difference between solitude and abandonment," Slate said.
However, Slate also creates this beautiful balance in her comedy, taking what could easily have been a jaded piece of work and giving it a beating heart. She touches on her relentless optimism, and reveals to us a true and persistent pursuit of fun and good and truth. She's able to walk this line of self-awareness and self-love, poking fun at herself and the society that shaped her without skewering herself for the audience's sake. And we watch documentary clips of her dancing to jukebox music, twirling in her grandmothers' dress and can't help but smile.
If Slate was ever afraid of vulnerability, she's certainly faced it with this special. To take critical comedy and make it tender is no easy feat\; it's something she's pulled off with this set, and what she's created she's created with love. Even seized with fear before performing, her light shone through:
"It feels bad right now," Slate said, "but when I get up there, I'll be filled with joy."
Leave a Comment
About the Writer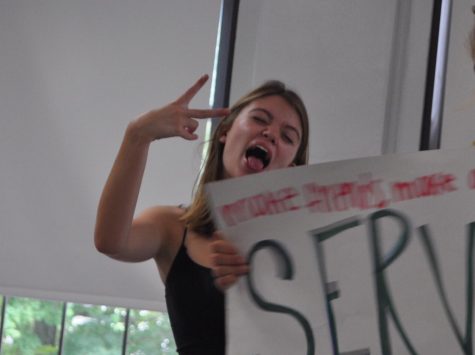 Paige Duff, Web Editor-in-chief
Paige Duff is a senior in her fourth year on Communicator staff, and one of three wonderful Web Editor-In-Chiefs. Her greatest skill is the ability to spin any fortune cookie slip, horoscope, or Magic 8-ball answer in a positive way. Paige loves the planet with her whole heart, and most of the people on it. She also loves car-singing and car-dancing — she does not love car-driving. She's looking forward to a magical year!