The sub two-hour marathon: how Eliud Kipchoge did the impossible
With just over 300 meters to go, Kenyan marathon runner Eliud Kipchoge separates himself from his pacemakers; no one will spoil his moment. His eyes on the finish line, Kipchoge accelerates above his average pace showing no signs of exhaustion after the 26.2 miles. What's crazier? He did it in under two hours.
He crosses with his pacemakers out of sight. On Oct. 12, 2019, Kipchoge became the first person in history to run a marathon in under two hours. Averaging an unreal 13 mile per hour pace and a 4:34 mile, Kipchoge's final time read 1:59:40.
After missing the sub two-hour mark by a mere 25 seconds in May of 2017 in Nike's Breaking2 project, the 34-year-old seasoned veteran was determined to break the barrier this time around. Similar to Nike's Breaking2, the INEOS 1:59 Challenge was specially designed around building Kipchoge the perfect race conditions.
The race was held in Vienna, Austria, and this was a key factor for several reasons. It was critical for the location to be in a timezone similar to that of Kipchoge's home country of Kenya so that his body would not have to make any significant adjustments. Also, the location for the race had to be in a country with a much lower altitude than Kenya to enhance his ability to take in oxygen. The arduous training Kipchoge carried out in Kenya at higher altitudes with thinner air gave him a physiological advantage when shifting to lower altitudes similar to Austria. The cool October air in Vienna with the predicted 80% humidity was also the ideal climate and exactly what Kipchoge wanted for the 26.2 mile run.
The location, however, wasn't the only purpose-built aspect of the race. The entire marathon until the very last stretch was led by a plethora of hand-picked runners from all across the world. The group of decorated long-distance runners consisted of Olympic medalists and world champions, all collectively contributing to Kipchoge's achievement. Along with pacemakers being cycled in and out of the race to guarantee the freshness of their legs, everyone was led by an electric car programmed to be on pace for a sub two-hour marathon. The zero-emission car even projected a laser grid before Kipchoge and the pacemakers, guiding each step they took to ensure they stayed on pace.
But even with water being delivered by bicycle, a laser projection holding his pace and hand-picked runners leading the way, Kipchoge's 1:59:40 marathon is one of the greatest modern athletic feats that should be coveted by all fans of the sport. Similar to Roger Bannister's 3:59.4 mile in 1954 breaking the sub four-minute mile, Kipchoge's unofficial marathon holds the same universal impact for this generation of runners: his great triumph motivates the current upcoming runners in the sport and hopefully sets new goals for their careers.
"I do draw inspiration and think he's a spectacular athlete, but he's also light years away from [us runners] and what's even conceivable in our brains," Hobbs Kessler said, a junior cross country runner for Skyline High School. "I can maybe run [that pace] for a mile and a half if I was feeling good, but that's just so fast."
Although Kipchoge's INEOS Challenge time won't count as a new record for the marathon because of the modified conditions, he is arguably the best marathon runner of all time. And he already holds the fastest official marathon time at 2:01:39 which he set at the 2018 Berlin Marathon when he broke his past record. Many believe Kipchoge will soon go under two hours at an official race.
"I feel like given the right circumstances he could do it at the Berlin Marathon officially," Kessler said. "It depends on the weather and the time of day."
However, even if Kipchoge never officially breaks the barrier in a race, it's certain that he's capable given the situation. But more importantly, Kipchoge's superhuman performance shows that what was once thought of as an impossible objective became a reality, and it's only a matter of time before a similar performance is achieved in an actual race.
Leave a Comment
About the Writer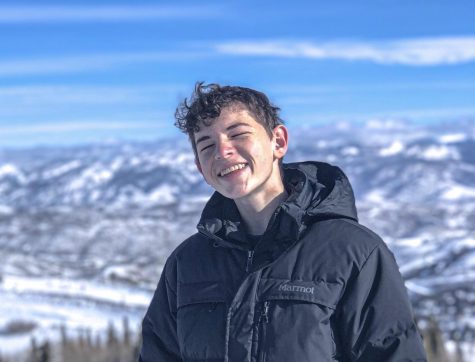 Dan Gutenberg, Web Editor-in-Chief
Dan is a senior and this is sadly his fourth and final year on staff. In class, you'll usually find Dan working hard on the website, editing someone's work or occasionally on SNO unproductively changing his admin color scheme just for fun. Outside of class, if he's not on the soccer field for Pioneer, he's most likely climbing, hiking, golfing, skiing or playing tennis. And he also remains convinced that he can beat anyone on staff in ping-pong, so feel free to lower his ego and challenge him to a match.