Waving local businesses goodbye
Imagine you are walking around the cute, homey streets of downtown Ann Arbor and come across Heavenly Metal, a beautiful boutique full of a range of curated goods: handcrafted jewelry, clothing, and carefully-picked home goods. Inside, you find a notebook you like, snap a picture, and later at home that night, you find it on Amazon and order it without a second thought.
It is this kind of tiny action that could have made a positive impact on a local business if done differently. With mass crowds constantly clicking the "checkout" button instead of actually checking out in a store with a real human behind the counter, it is getting increasingly difficult for local businesses to stay alive.
On June 30th, Heavenly Metal, a cozy shop in the Kerrytown district owned by Vickie Honeyman, closed its doors for good. Honeyman closed the shop solely based on financial necessity. She recognizes the devastating impact online shopping has on her community.
"Put down your phones and stop buying online," Honeyman said. "Take notice of the world in which you live, and understand that by buying your toilet paper online instead of in your local grocery store (even if it is a chain), you could be putting the store out of business––therefore ridding your neighbor of a job."
Running a shop of her own was a longtime passion of Honeyman's, and she is sad that it is coming to an end.
"Finding things to sell, telling their stories… it has been my creative outlet," Honeyman said.
The road leading up to this enjoyable career was a unique one\; Honeyman spent her earlier years doing everything from teaching the jitterbug, to running a small movie theater in Harbor Springs, to directing the Ann Arbor film festival. Cutting hair, however, was a constant throughout her range of careers: she discovered her natural knack for it in high school, and has cut countless customers' hair since. She opened her own haircutting place in downtown Ann Arbor, where she began bringing various goods to sell. That is how Heavenly Metal was born: a shop where you can get a trim and a gift for a loved one in the same 800 square feet.
Honeyman is now continuing her business on a smaller scale: cutting hair in her shed at home, only streets away from downtown. Despite losing Heavenly Metal, she is looking forward to new experiences that will come along with this project.
Ann Arbor waved goodbye to over 15 local businesses in 2018, some well-known and others still new. Each empty storefront can remind us of the devastation that comes hand-in-hand with online shopping.
Leave a Comment
About the Writer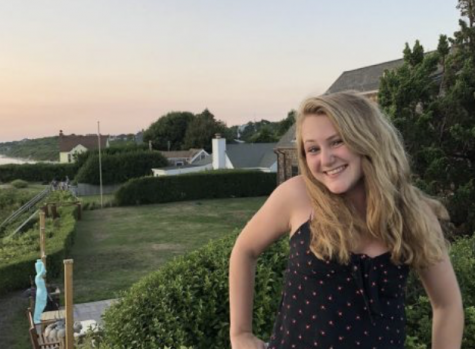 Chava Makman Levinson, News Editor
Chava is a senior, and is so happy to be starting her second year on staff and first as News Editor. Outside of writing articles, she loves hugging her dogs, collaging in her journal, and drinking way too much coffee (in reusable cups, of course). She joined the Communicator because she believes in the importance of telling peoples' stories, and in staying informed about what is happening in the world around you.