Carlina Duan's poetic journey
Carlina Duan was in her journalism class at Pioneer High School listening to poet Aracelis Girmay recite some of her poetry. Duan was assigned to write a report on Girmay's performance, but at the same time, she became extremely inspired to write poetry of her own.
She wrote three poems inspired by Girmay — along with two other poets that visited around the same time. And that seemed to pave the path for Duan.
She was captivated by the power of language, and how the language of poetry can transform space. Duan specifically recalled when Girmay read a poem about a third grade student that gave her a letter. Girmay read the words "love is for everybody," and Duan was astonished by how a few words can move people.
"In that room we were all collectively sucking in our breaths," Duan said. "We were holding in our breaths, waiting for her to finish reading."
From there, Duan started competing in poetry slams and she worked with Red Beard Press of the Neutral Zone. In 2011, she graduated and went to college at the University of Michigan (U of M) — studying English and creative writing. Duan wrote an honors thesis for creative writing titled "I Wore my Blackest Hair," which later turned into her first book. After graduating from the U of M, Duan moved to Malaysia.
"It was a small town full of banana leaf trees that was in the middle of a palm oil plantation," Duan said.
She had received a teaching grant and for a year Duan taught high school students English. Duan ended up doing a lot of poetry with her students.
After that, Duan attended school in Nashville to receive her MFA in poetry. Now, she most recently has come back to the U of M for a PhD in English and education.
In the future, Duan hopes to teach poetry in community spaces for young people, much like the Neutral Zone, which helped her become the poet she is today. She also hopes to publish more work. But for now she has five more years of her PhD that she has to focus on.
"Poems are change," Duan said. "Poems can offer change for other communities, for other people."
Leave a Comment
About the Writer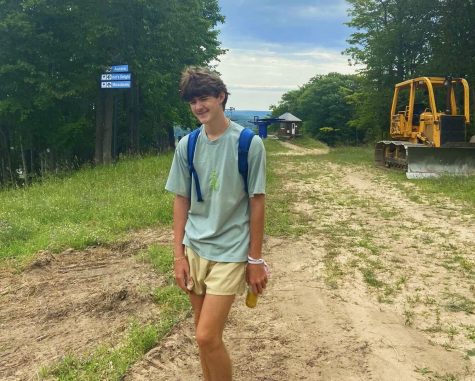 Cy Veilleux, Design Editor
This is Cy's third year on staff. His favorite thing to do for The Communicator is design pages for the magazine. That's why, this year, he is the Design Editor. In his free time, Cy loves to write, make art, and listen to supersonic industrial bass hyper pop music. Over the summer, he has basically turned into a pro slalom water skier, and he can't wait to see what his final year of high school is going to be like.