Making the team
I hadn't ever hit outside when it was 40 degrees and windy. My mom and some of the older girls who were already on the team tried to describe what it was like; balls bounce slower, the wind blows them around, you have a smaller range of motion because of the layers and layers. It's not that they did a bad job explaining it, you just can't be ready for so many new variables. That, on top of all the preconceived stress, made me feel like there was no way I was going to be able to play well. I was secretly hoping tryouts would get rained out. 
On March 12th, 2019, I ran out of Community into the cold already numb. I hadn't been able to feel my fingers all day. I got into the car and turned the music up. My mom told me to eat something, but I just shook my head. In the ten minutes it took to get to Skyline, I didn't speak. I thought about all the things I couldn't mess up. Everything I had to remember to do. As I was getting out of the car, my mom told me she was proud of me. I thought I hadn't done anything to be proud of yet. 
The coach announced our first matches, and said we were only playing first to three games. I think I blacked out that first match; I can't even remember who I played or what happened. My second match was against the girl who's now my partner. I won, 3-2. I remember being relieved that my match with her was over, we were running around so much. Just like that, the first day of tryouts was over. I didn't have any gauge of how I'd done; just that I'd beaten one of the girls on varsity. I kept that with me as I went into the next day; I played two matches, both of which I won, before my coach called me over.
She told me she had one last match for me to play, against Maddie. I'd known Maddie for three years by then; we hit together at Chippewa every Wednesday. We were at the same level, and I dread instantly settled in my stomach. This match was to determine which one of us was going to make the team. Maddie was standing next to me, and I watched her go pale. We both nodded and walked towards the court, not speaking. Just before we stepped onto the court, our coach gasped and called us back over. "Ladies, I just wanted to let you know — both of you made the team. This match is just for fun." I started laughing, feeling all the anxiety melt away. Joy filled me as Maddie and I high fived and hugged. Some of the other girls on varsity noticed our celebration and came over to congratulate us. 
I teared up when I told my mom. I had never felt that proud of myself. I've always been surrounded by people with immense talent, and I never felt like I fit in with that. I didn't think I had something I was especially good at. Making the team made me finally feel like I had something that I could say was my skill. I deserved to be there.
About the Contributor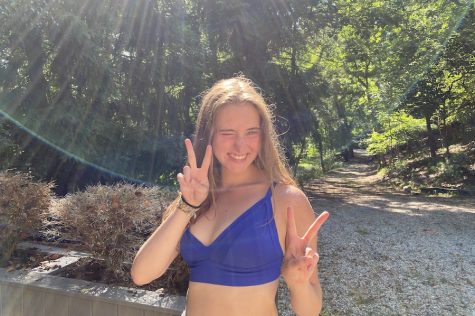 Cate Weiser, Social Media Editor-in-Chief
Cate is a junior at Community in the Silvester forum. This is her third semester on staff, and she is excited to be working to develop social media as its own publication. In her free time, Cate can be found playing tennis, taking photos on her film camera or trying on various outfit combinations. While she misses being able to watch the light come in through the windows of room 300, she is excited to return to telling others' stories.