More than modeling
Growing up flipping through magazines, Chloe Kurihara saw a lot of models. White, long-legged, blonde and thin, it wasn't hard for her to notice that none of them looked anything like her. When she was asked to model at her favorite local vintage clothing store the summer before her senior year, all four feet and eleven inches of her were shocked. 
"All my life, most of the models I've seen are white," Kurihara said. "Even if they aren't white, they never look anything like me."
When The Getup wanted to take photos of her because of the way she looked, not in spite of it, Kurihara was reminded that her non-american-girl-doll look did not have to be disempowering, but could open doors for her.
Kurihara inherited her love of all things second-hand from her parents, who have been taking her to "The Getup Vintage" in downtown Ann Arbor for as long as she can remember. She and her best friend, Samantha Ramser, have been going together regularly since their freshman year. Almost three years later, the two were trying on outfit after outfit in the curtain-drawn changing rooms, in preparation for a modeling shoot.
The night before the shoot, both girls were awake in their respective rooms, bubbling with excitement and nerves. Neither had ever modeled, and both were unsure how the next day would go. Would the outfits fit? Would they like how they looked in the photos? Would other people? These thoughts coursed through Ramser's mind as she awaited the shoot.
"When people take pictures of me, they never work out," Ramser said. "And usually that sucks, but there's no harm done because I'm the one in charge of posting them. If I don't like the photo, nobody sees it. But here, I didn't have the opportunity to choose the photos people see, or the ones they don't."
Kurihara agreed that "there are certain things that you pick out in yourself that other people might not pick out." 
Despite their slight apprehension, the girls arrived bright and early at the store the next day. The sun was shining and the birds were chirping, and they both had a feeling that the shoot would be a positive experience. They were right. Kaylan Mitchell, co-owner of The Getup and that day's photographer, had set out numerous outfits themed tiki, jazzercise and, of course, hippie. 
"[The photoshoot] was so low stress and fun, I felt like a little girl playing dress up."
A few days after the shoot, Kurihara opened her phone to find a photograph of herself on instagram that she'd never seen before. She loved how she looked in it. The photographer had snapped pictures not just when the girls were smiling for the camera, but indiscriminately between poses, too. In this one, she and Ramser were looking at each other and laughing. The photo stuck with Kurihara for its authenticity.
"You may be able to curate the way you look online, but you're not always going to be able to look the exact way you want to in public and around other people all the time," said Kurihara. "Looking at the natural, candid-style photos made me feel confident about how people see me when I'm not posing for the camera, and I think that's really valuable."
Ramser also felt her confidence swell after seeing the photos. She didn't expect the shoot to change how she felt about being photographed, but looking at herself through someone else's eyes changed her perspective drastically.
"I've always had a complicated relationship with photos of myself, but here [in the photos from the shoot], I thought that I looked good," said Ramser. "And that feels really amazing."
Leave a Comment
About the Writer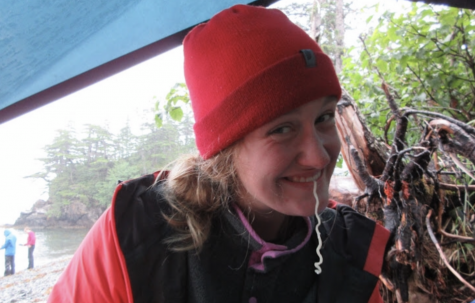 Ruby Taylor, Managing Editor
Ruby Taylor is a senior, and is currently in her sixth semester on Communicator staff. She loves all living things with every ounce of her being... except she hates creepy crawly crustaceans. She works as a barista at Argus Farm Stop, Mock Trials (yes it's a verb!) at CHS, and reads Reese Witherspoon's book picks in her free time. She is an INFP and her favorite word is cozy. She is a Gemini, but if you really want to understand her, recognize that she is a Pisces moon. She loves rain and the arb and her friends and taro milk tea.