Pioneer women's golf places 8th at states
Oct. 19, 2019 – Pioneer Women's golf team placed top 10 at Division 1 State Finals at Forest Acres Golf Course. With a two-day tournament culminating of two 18-hole rounds, Pioneer placed eighth with a total team score of 710.
Their strong performance at States complemented their equally strong season. After finishing undefeated in the SEC Red division, they went on to win the conference championship tournament. They also had a third-place finish at Regionals, qualifying them for states. 
During each day of the two-day tournament, five girls play. On the first day, Pioneer played their top five golfers throughout the season: Amaya Melendez, Mackenzie Rooney, Katie Liu, Jillian Giordano and Olivia Lyle. 
On the cold first day, most scores were higher than average, but Pioneer was unfazed, shooting a 4-score team total of 352, five strokes better than their regional performance. At the end of Friday, Pioneer was tied for fifth out of the 18 teams there. 
"The first day I was just trying to get through it," said Lyle, CHS senior and Pioneer golf captain. "I didn't think I was nervous but deep down I was, and I think the way I played reflected that. But the second day was really emotional because it was my last tournament. I didn't care if I shot 80 or 100, I just wanted to enjoy it."
The second day, with the ability to substitute players, Pioneer played senior Sooah Jung in place of junior Jillian Giordano. The decision was made to allow the three seniors to finish their high school careers together. 
"We played all three seniors on the last day so they could play their last rounds together and on the last day of states," Lyle said. "That was really special. It was pretty emotional for my whole team."
The three seniors along with their teammates had another strong showing on Saturday as well putting up a team score of 358 — making their two day total to 710. Junior, Amaya Melendez, lead the Pioneers. Shooting 77 on Friday and 81 on Saturday, Melendez finished tied for ninth. 
For the three seniors, ending their high school golf qualifying for states back-to-back years was special, but the memories they hold closest are the times spent with their teammates.
"As a team, we had a really good season and we were really close as a team," Lyle said. "I feel like that helped. I really loved this season because we were all friends too."
Leave a Comment
About the Contributor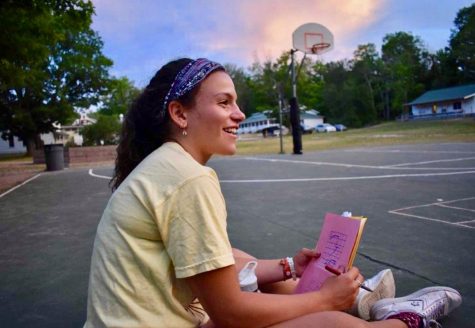 Cammi Tirico, Print Editor-in-chief
Cammi is in her fourth year on staff and is a senior at Community. This is her second year making up 1/4 of the print editor-in-chief team. When not working on The Communicator, she can be found playing golf and basketball for Skyline, lawyering at Mock Trial, singing camp songs off key at Camp Al-Gon-Quian or climbing trees. Cammi's favorite part of journalism is when an interviewee says something special or powerful out of the blue. Two averagely fun facts about Cammi are that 1 ) she is scared of lightning but loves rain and 2) her favorite shape is a triangle.