"Gene Kelly"
It is said that songs that stand the test of time are exceptionally well crafted, a statement that can certainly be made for Felix Hagan and The Family's 2017 song "Gene Kelly." The song is at its core is an upbeat rock song featuring the absurdity that is the music world, but once you begin listening to the song's message and lyrical genius it becomes obvious that the song intelligently combines heartfelt messages and dedication to the craft of music along with flamboyance and excitement riddled within it.
The song begins with a small guitar rift instantly capturing the listener's attention before fading away to begin the story that will be told throughout the song. As the first verse primarily contains lyrics — with short bursts of music occasionally flashing before disappearing just as fast — the verse steadily lays out the goals and dreams of the band. Then the chorus of the song flies in with the catchiest line in the song, "I want to dance like Gene Kelly / Dress like Elton John / Give those kids who get me a star to wish upon." These lines coupled with the instrumentation present behind the lyrics cause the chorus to become cemented in the brain of the listener, replaying itself for what seems like an eternity.
"Gene Kelly is my favorite track on the [Attention Seeker] album," said lead singer and group leader Felix Hagan. "It was written about the madness that comes with doing this job for a living and is a definitive statement of who we are as a band and what we want to give to people."
While the song is one of the most listened to that the band has, it is also one of the most recent songs they've released. The last performance the band gave was on December 31, 2018, and since then the band hasn't been heard from since. While their presence may have disappeared, their music continues to permeate the internet with the authenticity they create.
Leave a Comment
About the Contributor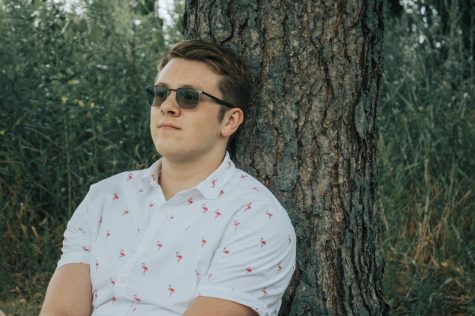 Atticus Dewey, Print Editor-in-chief
Atticus Dewey is a senior at Community High School and is more than excited to start his fourth year on The Communicator staff. This year, he is one of the four Print Editors-in-Chief, but believes that the entirety of the staff is more skilled than any other year prior.
His life outside of journalism is completely absorbed by one thing: water polo. While Atticus doesn't have any free-time because of it, he wouldn't have it any other way. While Atticus has felt stressed and like time has been flying by, he's grateful that he has three other wonderful editors to help him through the process.