Athlete Profile: Finnegan Kilbride
AAA hockey player and former Community student, Finnegan Kilbride, waited eagerly on his couch at home, staring down at his phone to see if he gets drafted next. As player after player got drafted, his stomach tightened. Eventually, all of his waiting paid off when Kilbride saw he got drafted by the Green Bay Gamblers –– a very honorable accomplishment.
"I felt relieved," Kilbride said. "All the hard work and late nights had finally felt like it paid off. I knew that was only the beginning of the process though, I still had to make the team."
The Gamblers are a tier one junior hockey team in the Eastern Conference of the United States Hockey League (USHL). "I attended the team's main camp in June to tryout for the 30 man roster that the team would release after the camp," Kilbride said. This team has had many players go to the National Hockey League. Three former Gamblers have their name on the Stanley Cup, including Adam Burish (Chicago/2010), Ryan Carter (Anaheim 2007) and Matt Greene (Los Angeles 2012 & 2014). In 2016-2017 Gambler alumni continued to make their mark at the NHL level.
Kilbride in the past few years has played for the AAA teams; Honeybaked, Victory Honda and Compuware. AAA hockey provides an opportunity for the best Michigan youth players to develop and compete at the highest level of hockey in the United States.
Kilbride played a total of 13 games, while playing for Victory Honda, he had one goal and two assists which adds up to a total of three points. The next season, he joined Honeybaked where he contributed nine goals and eight assists improving his playing, scoring him a total of 17 points. He currently plays for Compuware where he continues to rack up goals and assists to add up to his total amount of points.
Attending Total Package Hockey (TPH), a school that focuses on improving the players. He also was drafted to the Hamilton Bulldogs, an OHL team. He didn't sign because playing in the OHL means a player can't play in college. It still means a lot to a player to be lucky and good enough to be drafted by a team from the bigger leagues.
"The decision was difficult for me and my family, but ultimately being in that environment would benefit me more than being at Community where I would have to miss school days every week," said Kilbride, "my schedule at TPH allows me to stay on top of schoolwork and be able to miss days in order to play hockey."
Kilbride puts a lot of time and effort into the sport he loves. The weekend of September 14, Kilbride and his team traveled 10 plus hours to New Jersey for a tournament, meaning most of the players would miss a couple days of school, but not Kilbride. He and his family have made a big decision to enroll him in all online classes so he would be able to do the traveling needed.
"It is also hard to travel so much because I miss out on things at home. Seeing my friends everyday at school is what I miss most about Community," Kilbride said.
Kilbride misses out on a lot do follow his dream and to work hard on his career. He spends most of his days on the ice and road. Kilbride has to drive an hour just to school at TPH and 30 minutes to practice when playing for Compuware, Honeybaked and Victory Honda.
Leave a Comment
About the Contributor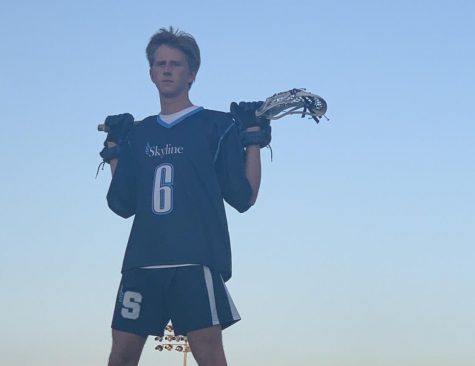 Zack Schueler, Journalist
Zack Schueler is a senior and this is his third year on staff. He enjoys playing or watching most sports, and of course, hanging out with friends. Zack plays lacrosse for Skyline, and loves to snowboard, hammock, and travel. He hopes to travel the world with friends and family. Zack looks forward to his last year on staff.