"Overload"
I first heard "Overload" by Life of Dillon in the summer of 2015, when I was about twelve. The song was on one of my Uncle Gregor's infamous CDs. He made one for every season and sent out discs to members of the family. They were a collection of songs that he enjoyed and thought related to the mood of the season. Uncle Gregor is known for his excellent taste. This was a man who'd had "Shut Up and Dance with Me" on his mixes before anyone else. He knew his stuff. I was introduced to some of my favorite songs from these CDs. One of these songs was "Overload."
"Overload" was released by the UK band Life of Dillon on Jan. 7th, 2015. Unlike some of Gregor's other picks, "Overload" and Life of Dillon remain widely unknown, like a hidden gem just begging to be stumbled upon. The song is peppy, upbeat and smile-inducing. It's about nothing in particular: just the wonderful, euphoric feeling of dancing with someone you love. The song radiates Malibu sun and emits the energy of a drive down ash gray roads dotted with palm trees.
"Overload" has a wonderful skill of reminding the listener of blissful, good times. For me, that was the being in the car with my family, listening to the song over and over again. That spring break was the last time my family drove down to Naples, Florida, to see my uncle.
Like how a certain smell might remind you of a place or a certain person, "Overload" is a memory of sunny beaches, crashing waves and the good old days.
Leave a Comment
About the Writer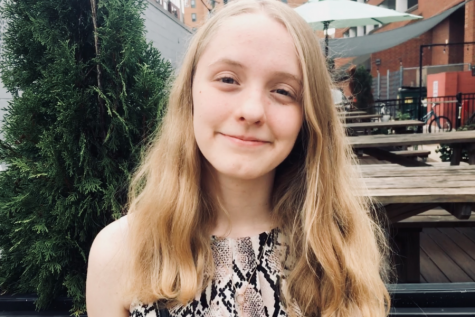 Sophie Fetter, Journalist
Sophie Fetter is a senior at Community High School. This is her second year on The Communicator. She thinks writing is both very challenging and very rewarding. Sophie enjoys drawing, animation, interesting conversations, listening to music, and reading. She hates greed, ungratefulness and unwaxed dental floss. Sophie spends a lot of time watching her pet betta fish, Mareanie. She also runs the Community High Philosophy Club.