Sarah Hechler leads Cindy Haidu-Banks' old forum
In the fall of 2016, Sarah Hechler first came to CHS as a student teacher for former social studies teacher and forum leader Cindy Haidu-Banks. By the end of the term, she knew two things: she wanted to return to CHS, and forum was important.
"It's a really powerful thing and it's a really special thing," Hechler said. "It provides this foundation of good relationships and knowing each other and feeling that the whole school rests on."
After student teaching at CHS and a short stint at Skyline High School, Hechler got a part-time job as a social studies teacher back a CHS, sharing a room with Haidu-Banks. Hechler also sat in on most of Haidu-Banks' forum meetings during the first semester. When Haidu-Banks began telling her students and coworkers about her plans to retire at the end of the fall semester, Hechler was her top choice to lead her forum after she left. Haidu-Banks said she is excited for Sarah's "fun-loving" way of teaching and that Sarah has a "natural passion" for many of the things that are important to Haidu-Banks, such as cooking, camping and spending time in nature.
"I just can't think of a better person," Haidu-Banks said.
Although Hechler is excited to keep those traditions alive and to lead a forum, she's a bit nervous; she understands that forum is important to CHS and to Haidu-Banks, so she wants to do well leading forum and build relationships with her forum students.
"Forum is all about relationships," Hechler said. "At the end of the day — especially in high school — it's all about the relationships you form with people. That's one of the big reasons I became a high school teacher, because I had teachers like that for me: I had these people I had really good relationships with and some of them are still really good friends of mine to this day, and they were among the people that helped me grow up. Everyone needs that when they're a teenager. I think forum is a really amazing opportunity for those relationships to happen, not only between students and teachers, but between students. I'm really excited to have this little family at school with students that I'm going to know and be with their four years."
Working at Skyline High School during her first years of teaching, Hechler understands that CHS has different opportunities for student-teacher relationships as a small school.
"At the bigger schools, it's really easy to feel like you're disappearing," Hechler said. "It's really easy to feel like no one sees you. It's really easy to feel like you're all alone in this big sea of people. At Community, there is this structure for everyone to have a place and have a home and not be alone and be seen and known and cared about. It's very valuable and very important and I'm very excited to be part of that."
About the Contributor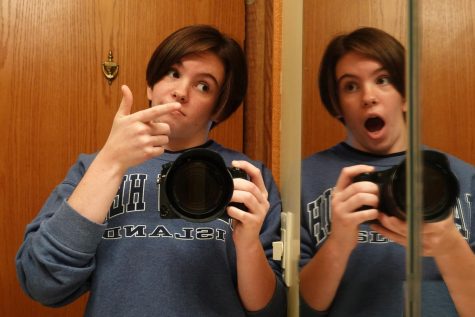 Geneve Thomas-Palmer, Web Editor-in-Chief
Geneve is in her fourth year on staff and her third year in leadership. Her favorite part about journalism is the unique way in which it enables her to interact with people, who all view the world with their own, individual perspectives. Journalism was one of the first things she felt passionate about: she felt a drive to experience and learn, to shift her own view of the world.
When she's not working on the Communicator, she can be found practicing jazz, preparing for a Mock Trial competition or helping run feminist club. Some fun facts about Geneve are as follows: she was born with an extra thumb that has since been removed; she loves to sing and dance, even though she is not good at either.