"The View From Somewhere:" Exploring objectivity in journalism with Lewis Wallace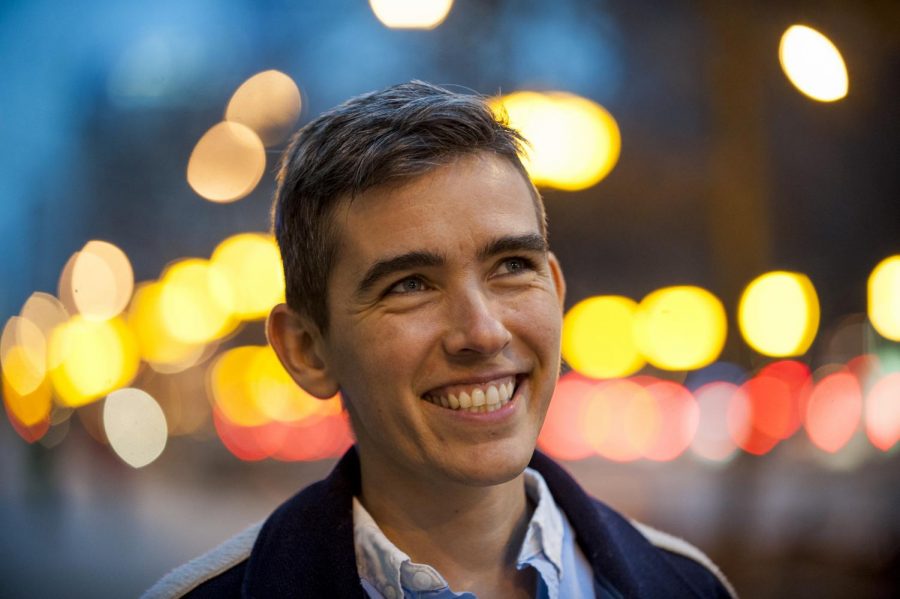 Journalism is under attack in today's discourse. Some argue that we've lost objectivity in reporting — but the real question is, did we ever have it in the first place? As partisan divides deepen and journalists aim to gain the trust of the public, some journalists are questioning what defines reliable journalism — and Lewis Wallace believes that objectivity as a framework is not the answer. For this belief, Wallace lost his job, shortly after Trump's inauguration in 2017. 
Wallace had been working at National Public Radio outlet "Marketplace" for less than a year when he published a personal blog entitled: "Objectivity is dead, and I'm Ok With It." The blog post argues that objectivity is mythology — that it's impossible for us as humans, especially those of us deeply impacted by the issues we're reporting on, to be truly objective. Additionally, Wallace argues, in pursuing this performance of objectivity we end up standing on the sidelines during debates of racism, transphobia, and essentially, basic humanity. Wallace's experience living as a trans man intertwines with his work, and he believes it's insensible to expect it not to. 
After this blog post was published, Wallace's supervisors at Marketplace approached him, asking him to take it down. At that moment, Wallace decided to stand by his opinion and keep the post up. He lost his job. 
"This kind of false idea that a journalist would be a person that could stand outside of the issues that they cover almost always privileges cis-gender white men, who can be seen as neutral in ways that people of color, trans people, and often enough women can't be," Wallace said. "There are some pretty fundamental problems with objectivity as a framework at this point." 
Following the firing, Wallace received a fair amount of publicity which created continued conversation around the topic. Thus, the idea for, "The View From Somewhere," was born. 
Wallace wrote, "The View From Somewhere: Undoing the Myth of Journalistic Objectivity," with two goals: uplifting the voices and stories of journalists from marginalized communities whose contributions have often gone unrecognized and exploring the possibilities of now, reimagining what journalism could and should look like. 
"Both the book and the podcast are really an exploration of this idea of objectivity, where it came from and how it has been used to gatekeep and remove marginalized people [from the journalism industry]," Wallace said. "We're taking these questions seriously: what does it mean to be a trusted part of news reporting in the 21st century and what are the ethical frameworks that we need to really serve the communities that we cover?" 
"The View From Somewhere,"  features stories of well-known, ground-breaking journalists such as Ida B. Wells, as well as lesser-known journalists, such as the incredible Marvel Cooke. Cooke was the first Black woman to work at a conventional, white-owned newspaper — yet her story often goes untold. She was an impactful labor activist and organized one of the first journalism unions in history. Despite her deep intrenchment in labor issues, she covered these same issues in her journalism work. Wallace points to Cooke and her work as an example of good journalism in the absence of objectivity. 
Additionally, Wallace highlights the work of contemporary journalists and news outlets who are also rejecting the objectivity framework. One such network Wallace talks about is Indigenous Rising Media (IRM). Jade Begay, an Indigenous filmmaker who works at IRM shares with Wallace the ways in which IRM is grounded in Indigenous values: being in community and being present. Begay introduces the concept of non-extractive journalism — building relationships with people before ever trying to extract a story from them or take their words in some way.  
In a world where journalism is under attack, Wallace believes we have the opportunity to rethink the ways we approach journalistic work and hopes to prompt that discussion through both his book and podcast. 
"Rebuilding trust or building trust, especially with marginalized and underrepresented communities, necessitates understanding [that] trust is relational, earned, and not about this performance of neutrality," Wallace said. 
"The View From Somewhere," has received praise from Kirkus Reviews, journalism professors across the country, and notable authors and journalists.