NAAPID comes to CHS
On Wednesday, Feb. 11th, National Parent Involvement Day (NAAPID) came to CHS served with a side of pancakes and jazz. Parents filtered into Bodley Hall, where they were served a breakfast spread that included chocolate chip pancakes made by members of CHS' Black Student Union (BSU). Twenty years ago, the event was created to invite African American parents and parents of all races to get involved in their students' school.
"It's National African American Parent Involvement Day, and it's right in the beginning of Black History Month," CHS parent Ralph Anderson said. "So I think it serves a dual purpose of drawing attention to Black History Month and also involving more parents in the community of Community."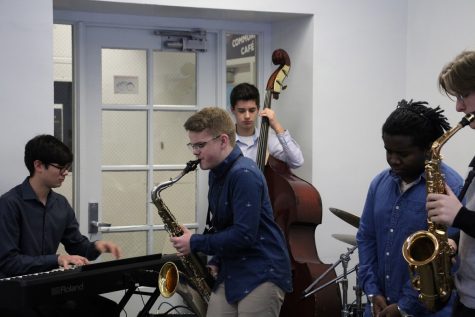 Anderson, who had taken time off of work to attend the event, was grateful for the early start time as it made it possible for him to be there; He had been unable to attend night events in the past. He also sat in on some of his daughter's classes later that day, as parents were invited to over the duration of the school day. The event was founded over 20 years ago, intended to be a way for parents to connect more deeply to their students' education. The tradition of NAAPID in the Ann Arbor Public Schools (AAPS) is one that was started by Joe Dulin, founding principal of the now defunct Roberto Clemente Student Development Center. 
"He started thinking that more parents of color need to come in and see what their kids are doing in school, instead of only coming in when their kid was in trouble," Community Assistant Kevin Davis said. "So that's how he started it, and we've been keeping it up since." 
Although NAAPID is celebrated differently across different schools, CHS has maintained the event as a kind of open-house in order to make it possible for parents with different work and personal schedules to attend without detracting from the students' time in class. 
Simone Mahler, a member of BSU who helped out at the event by making pancakes for the parents, hopes that NAAPID will serve as a way to celebrate and honor her parents and the parents of other students at the school. Although her mother was unable to attend the event, Mahler says that she hopes to celebrate her through the spirit of NAAPID.
"I would love to just honor her, and tell her she means the world to me," Mahler said.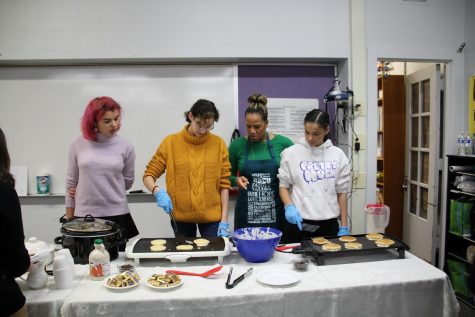 In addition to being served breakfast, parents were entertained by a series of upbeat jazz pieces performed by the CHS jazz band. Included in their performance was "Sister Sadie," a piece by Horace Silver, met with cheers and applause from the listeners. Patty Mazzola, parent of a freshman at Community and attendee of many NAAPID events over the years, was attending her first one at CHS. She especially enjoyed the band.
"I loved having the addition of live music," Mazzola said. "That's different, and I think that's really special about Community." She also commented on the open and laid-back atmosphere, which she believes is part of "Community's way." 
"Parents find all different times and ways that they engage with their students' education based on what works for their family," Assistant Dean Rebecca Westrate said. "We just want this to be something in addition to what parents are already doing — an opportunity to come in and feel welcomed into the school and see what we do."