DAG 10-year anniversary celebration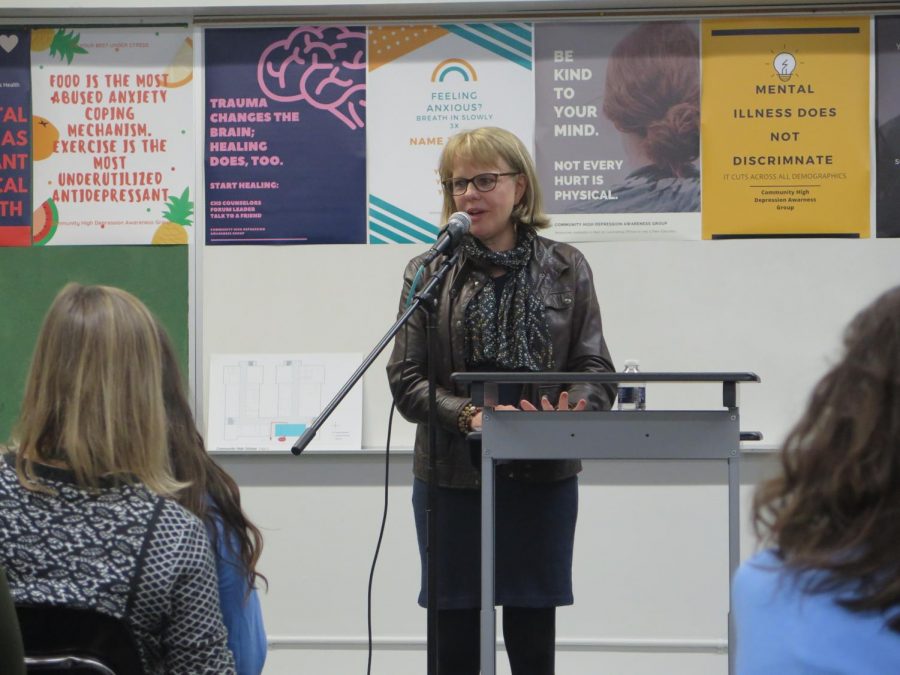 Silence filled the room as Robbie Stapleton stepped away from the podium on March 2 during the Depression Awareness Group's 10th anniversary celebration. DAG members and supporters alike had not only gathered to celebrate the ongoing success of the group within CHS, but also the publishing of Ellen Stone's poetry collection "What is in the Blood." 
Stone, a retired special education teacher and former leader of CHS's poetry club, delivered a few of the poems from her book and gave further insight into her childhood's effect on her. But the audience wanted more; one listener asked for another poem during the Q&A.
The reading was deeply personal for Stone; her book is a project that hits close to home for many. For one thing, Stone wrote many of the poems contained in the collection at CHS. Many other teachers at CHS were credited by Stone for helping her develop her poetry, from her annual poetry workshop with journalism teacher Tracy Anderson, to her classroom contemplation with now poetry club leader and english teacher, Robert Morgan. Many students, especially poets in her and Robert's club, have looked to her as a mentor even after her retirement.
Ellen's book centers around her experience growing up as her mom struggled with bipolar disorder. She and her siblings play a central role within the book as Stone reflects on the ups and downs of her mother's illness as seen through the perspective of children. Although "What is in the Blood" can be a somber read, Stone creates a powerful piece that provides an important voice on caring for one's family, mental illness and the overlap that can create nontraditional, but loving relationships.
Stone's reading followed student poetry, read by seniors Sarah Tice, a DAG peer-to-peer mentor; Isabel Perry, and Leda Šantić. Each student's poem focused on mental health, some with an emphasis on habits and coping strategies, such as Tice's poem about dyeing her hair, and Šantić's reference to energy drinks.
Afterwards, the attendees flooded into the hall to enjoy cake and view DAG's photo-voice projects. In these projects, the members of DAG selected a photo they thought had a connection to mental health, and told the story about their choice and experience. Senior Arlo Durgy selected a photo of his aunt's birthday up north on Lake Michigan.
"My photo-voice talked about self love and being unique," Durgy said. "Just learning to accept yourself, and knowing that you are worthy and valuable." 
The celebration highlighted the important work that DAG has done within CHS for years and how much DAG has grown over their 10 year history. But Stapleton was adamant that DAG will go above and beyond their mission to promote awareness of depression within CHS. The first order of business: expanding the focus to the high comorbidity of depression with anxiety disorders.
"I think there's gonna be a push, supported by the depression center, to expand our mission," said Stapleton. "It used to be just about depression. Quickly it became about anxiety as well, because we know that students very often have both."
Stone wants those that read her collection poems to take away the knowledge that no one is alone in their struggles with mental health. 
"There are ways of getting support, especially now. I mean not so much when I was growing up, it was pretty lonely," said Stone. "So I guess the message would be find your resources, find your people and find your voice because it's really important to talk about it."