"Welcome to Commie High" Comes Out
Community High School may not have an official school color or any sports teams, but it does have a feature length documentary. "Welcome to Commie High," directed by filmmaker Donald Harrison of 7 Cylinders Studio and filmed from 2016-2018, was released for a limited time. For $10 (students and teachers could receive a $3 discount) to support The Ann Arbor Film Festival. It has been long awaited; it was set to be released during the fall of 2017, but principle production didn't wrap up until a year later. But, "Welcome to Commie High" was worth the wait.
The film kicks off with a local radio broadcast from 1996 reporting on lines that would form to gain a spot at CHS. Students and parents would wait for almost two weeks, sometimes quitting their jobs to wait or flying out family, to get a spot at the newly popular CHS. The lines were a sharp change from what admission had been like in the past, when applications were so low that closure was threatened every year. The lines started when CHS became known as the cool and smart school, a place where families were willing to camp out for weeks to go.
Harrison used old footage from CHS student-run news shows, alumni and teacher interviews, recent footage and yearbook photos to piece together an image of a caring and unique school. He showed the award winning jazz band wowing a large audience at the North American International audio show. He showed The Communicator, reporting the deportation case of a Yousef Ajin, a CHS parent, which highlights the caring nature of our school. He showed forums relaxing and bonding at the end of a long day. These pieces of our school showed what an amazing place it is. I liked how Harrison followed the students throughout a year to show how students evolve and what a CHS year looks like. I felt that the school had been thoroughly researched.
The film also highlighted the CHS Community Resource (CR) program and all it has done for alumni. It was interesting to see how CRs evolved with the school, such as a childcare CR in the school's nursery for students' children. These changes with the times kept CHS alive while other schools failed. I thought it was interesting how even though my CHS experience is very different from someone who went to school 30 years ago, it still has the same core and roots.
I was particularly interested in CHS' early history. The early history and fascinating facts of a school are often lost to the later classes, but now at CHS we have an amazing opportunity to learn about those who came before us and those who gave us CHS and the great education we are receiving. CHS was established in 1972 as part of a wave of experimental schools using a "school without walls" concept. This allowed students to learn outside of the building and build their own academic path.
Now, CHS is only one of the few of these schools remaining. It has survived low admission, scandal and scrutiny to rise as one of the best schools in the country. I felt extremely lucky after finishing the documentary that CHS had survived so I and thousands of other students could go. Students already know how amazing CHS is. But watching "Welcome to Commie High" can provide a different perspective for students.
It is hard to successfully tie together so many aspects of CHS in under two hours. Through its almost 50 years (the anniversary is coming up in just two years), CHS has gone through a lot. The film successfully ties together the past and current. It uses film from 2016-17 as well as historic footage to show a complete story of CHS. The amount of footage and newspaper clippings the film showed amazed me. I got to see funny, sad and caring things happen on the third floor benches or the front lawn that I know well. It accurately depicts how CHS is both an experiment to study and reflect on, and an ongoing experiment.
There has been the always present lack of diversity issue. While CHS uses its community, it has not always been representative of it. There has been student-teacher relationship scandals. There has been (and currently are) stereotypes and presumptions about the CHS students and drug use.
All of this is CHS' history. We are not just an alternative and slightly hippy school whose students can go across the street for coffee at lunch. Our long and complex history takes time and care to unfold, and "Welcome to Commie High" does it well.
Leave a Comment
About the Contributor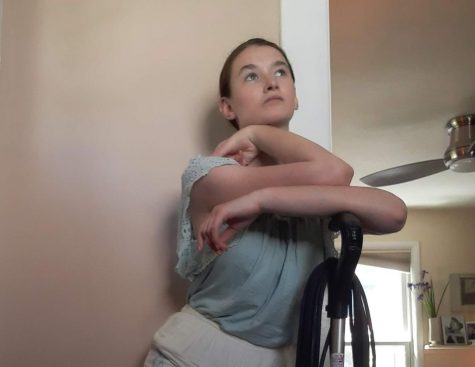 Lucy Tobier, Web Editor-in-Chief
Lucy Tobier is a senior at Community High School and a Web Editor-in-Chief for The Communicator. This is her third year on staff. When she's not transcribing interviews or messing around with website layouts, you can find her walking through the woods and browsing the stacks at the public library. She loves to bake cookies for her friends, rewatch Gilmore Girls and cut apart seed catalogs.