"Gimme Love"
Japanese-Australian singer Joji has made quite a name for himself with his mellow sound and sad lyrics. Though he previously attained millions of YouTube subscribers producing shock comedy under the name Filthy Frank, his transition to music has attracted an even bigger audience and proven to be even more successful. He has released two albums, "BALLADS 1" and "In Tongues," which showcase his signature sound with emotional lyrics and moody, atmospheric production.
On April 16, Joji announced that he has another album on the way, to be titled "Nectar." With the announcement came the release of the album's third single, "Gimme Love," and a music video for the song. The first two singles, "Sanctuary" and "Run," have already created lots of buzz for the upcoming album, and "Gimme Love" has taken the excitement to a whole new level.
An energetic beat and soft, crooning vocals start the song before Joji comes in with a catchy, poppy chorus. He repeatedly sings the phrase "gimme love," presumably to a romantic partner, then delivers a verse with abstract lyrics.
"Those pictures so clear, they fade in my mind / You leavin' me here with ashes and fire"
After a repeat of the chorus, the song suddenly transitions into a slow, dreamy second half, which almost feels like a whole new song. An acoustic instrumental accompanies Joji's second verse, in which he asks his partner to love him unconditionally.
"Look into your heart and let me know / Do things turn black and gray as they go? / When I'm far too gone, can you show me love?"
"Gimme Love" is something different from Joji's slow and somber songs, but it's definitely worth listening to. It gives an interesting look at the highly anticipated "Nectar," which will release on July 10.
About the Contributor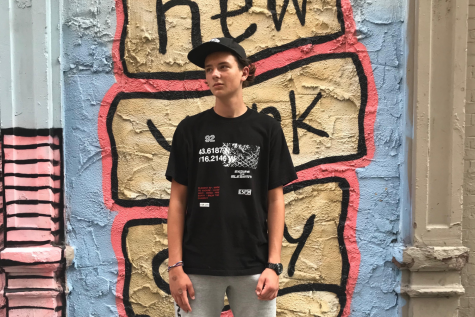 Joey Simon, Journalist
Joey is a junior and completing his second year on staff. His interests include music, fashion, and sneakers, and he rows for Pioneer's crew team and plays the bass in their symphony orchestra. His favorite things to do are travel, design shoes, and make music, and he hopes to pursue a career in one of those things.