Album Review: Doja Cat's "Hot Pink"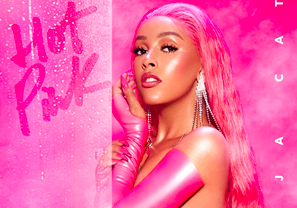 Doja Cat, a songwriter and rapper, has definitely made a name for herself in 2019 and 2020. With help from social media apps like Tik Tok and Instagram, her musical career has excelled. On Nov. 9, 2019, she released her second album "Hot Pink" ; and it's safe to say that the success from the 12 track album has definitely helped her fanbase rocket.
Say So:
Coming in as the fifth song on the album, "Say So" is one of the most popular songs. Achieving millions of streams after gaining popularity on Tik Tok. The song starts with a funky upbeat tune, similar to disco song from the 1970's. The song's overall meaning is about the miscommunications between relationships, and the importance of listening to both perspectives in a relationship.
"I'd let you have I known it, why don't you say so?/ Didn't even notice, no punches left to roll with / You gotta keep me focused, you want it, say so," Doja Cat says in the song.
Overall, the song is simple to dance to, and has an enjoyable beat. 
Addiction:
As the eighth song on the album, "Addiction" starts with a sassy techno-beat. The song goes on to have Doja Cat talk about addiction surrounding the overall idea of a healthy relationship. The song's message strikes importance to young listeners considering we're entering a time where many of our peers rush into relationships just for the heck of it. Especially in a time where people throw their bodies and self worth at others just on the behalf of not being single. 
"I am addicted, a little/ Under the influence, a little/ And it makes me want to dance, a little/ An itch I just can't scratch, addiction," She says in the song.  
Won't Bite:
As the second song on the album, "Won't Bite" comes in with a more uplifting beat, followed by reggae sounding characteristics. The song's purpose rings for those attempting to be with those who develop a fear-like attitude towards them. All while assuring that person they aren't harmful.
"Closer to me baby, I won't bite/ You look so tasty, but I won't bite/ Really I'm such a good kitty, don't put up fights/ But if you trick me, baby, it gon' get sticky," Doja Cat says.
Overall, the song is nice to listen to  and has an intriguing tune with lyrics that are easy to repeat and sing with others. 
Conclusion:
All together, Doja Cat's sophomore album "Hot Pink" remarks as a triumph for girls and their anticipation for relationship success, as well as life downs and disappointments. Even though she is a new artist, it's exciting to see how much her music has progressed since her first album; and there is high anticipation for what she'll do next. 
Tracks On Album: