A Small-Town Cliché: Sarah Wiest's Path to CHS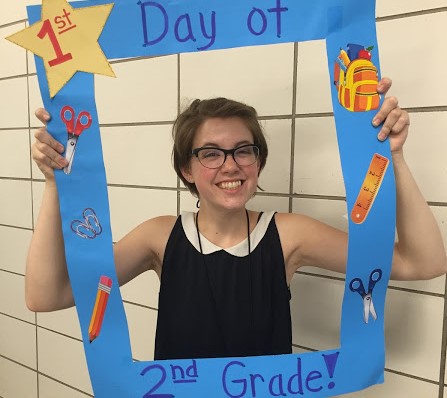 Sarah Wiest, CHS's newest English teacher, describes her childhood as a cliche. Growing up in a small, rural town in south-central Pennsylvania, she was always plotting her next steps on how to get out. 
She got out by attending Princeton University for her undergraduate degree in English. In college, Wiest discovered that she had a challenge ahead of her. Coming from a town that prepared kids for the job force rather than college, she had to reteach herself how to read and think critically. 
Wiest never planned to become a teacher. All through high school and college she actively resisted it. But the driving force on starting to teach was her own education. 
"I want students no matter what their path is, if it's college, if it is going into the workforce, if it's the military, everyone should know how to think critically and that they're allowed to think critically, that they're allowed to question, that they're allowed to wonder, that they're allowed to engage with things beyond just a surface level," Wiest said. 
Once out of college, Wiest lived in New York and taught for a few years. At schools in New York with more militaristic and disciplined teaching styles, Wiest saw a stark difference from what she sees at CHS.
"I think the biggest thing for me from student teaching, especially at a place like Community, was seeing [what teaching is] actually supposed to feel like and how students and teachers and staff are supposed to feel at a place," Wiest said. "Student teaching was a really transformative experience for me. And that's why I'm really excited to be back."
After receiving her masters in education at The University of Michigan and student-teaching at CHS for Tracy Anderson, Wiest taught at Saline High School for a little over a year. In early October, a job opportunity at CHS arose and Wiest decided to go for it. She says that this unusual school year made it easier for her to come in during October. Students and classes hadn't settled in yet and Wiest didn't feel that she was coming into something "already in motion."
Now, she is all in. 
Wiest is teaching two sections of World Literature, Introduction to Literature, and is the head of what used to be the Ed Kulka forum. She looks forward to forum every day and is learning how to build trusting relationships virtually with her forumettes. Wiest has also gotten used to students' cameras staying off and emphasizes with the students that she understands why they make that decision 
"I put myself back in 14, 15-year-old me's shoes and think, would I want a bunch of my classmates just coming into my bedroom on a computer screen?" Wiest said. "Probably not because that's my space. And so I can completely respect the fact that cameras on are uncomfortable."
For her English classes, Wiest has a lot of lessons and projects she is excited to share with students and bring to the curriculum. Her first priority, though, is to support her students. She wants students to know that she values their well-being over their performance, work and grades through these hard times.
"This is such an abnormal year for everyone in this world; in such a way that the world is going to have to be flexible with interpreting the end results of whatever happens during this pandemic," Wiest said. "And for students, I think that my big plan is to help as many of you all, and even adults too. Take away the message that this is not a year that is going to define us performance-wise." 
During her own quarantine, Wiest has learned that she values social interaction more than she thought. As an introvert, she usually avoids crowds but now during the pandemic, she has pushed herself to reach out to old friends and maintain connections. She even created a new connection by adopting a St.Bernard-Shepherd mix named Maks. 
"He is quite a lot," Wiest said. "He's really cute, but he's got some issues that he's working through, just like all of us. Separation anxiety is the one that he is working through right now. I don't really know how to work through that when I can't really go anywhere. So at the end of this, Max is going to go through a real wake-up call when I suddenly start leaving for work."
While she is not teaching or helping Maks with his issues, Wiest spends her time reading, writing and playing Dungeons and Dragons — that kind of "classic nerdy stuff." Wiest goes through phases in her favorite genres. She just finished a sci-fi phase and is currently reading "The Neapolitan Novels" by Elena Ferrante, a four-part series following two women and their friendship as they grow up. She also recommends "Mr. Penumbra's 24-Hour Bookstore," a novel she describes as a "love letter to books and bookstores and just reading in general." Currently, Wiest is pushing herself to read books from different cultural or geological points of origin. One of her goals is to read a book from every country in the world.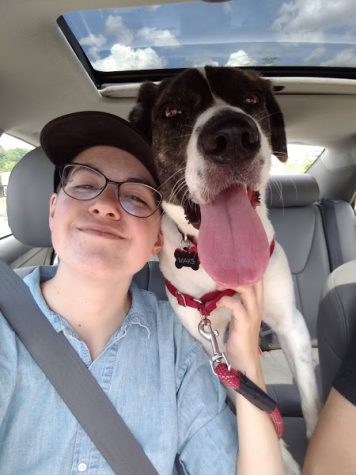 Besides valuing well-being over performance, Wiest also wants her students to know how much hope she has for Generation Z and current high school students. 
"I think that this generation is doing such creative, beautifully engaged things in this world and I am just constantly in awe of young people right now," Wiest said. "I really do believe in the power of young people to really just transform our world. I think a lot of historical changes are brought on by young people and we're in the middle of that again. Watching young people take place in climate marches around the world and pushing for reform in schools, reforms for gun laws and gun control, I just have so much respect for this generation of students because you all are more engaged than I think my generation ever was."
Wiest leaves one final message: vote.
Leave a Comment
About the Contributor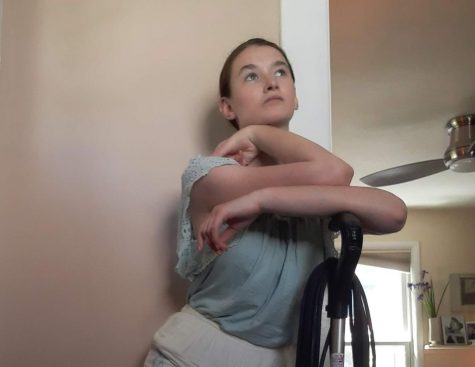 Lucy Tobier, Web Editor-in-Chief
Lucy Tobier is a senior at Community High School and a Web Editor-in-Chief for The Communicator. This is her third year on staff. When she's not transcribing interviews or messing around with website layouts, you can find her walking through the woods and browsing the stacks at the public library. She loves to bake cookies for her friends, rewatch Gilmore Girls and cut apart seed catalogs.