Unmuted: How to talk to lawmakers
I don't know about you, but until recently, I've never had much interest in talking to legislators. Every time I've wanted to let someone know how I felt about an issue, I posted something on social media or talked to my friends. Maybe I was nervous, or maybe I thought my voice would not make a difference. 
In light of recent events, however, I have been considering the idea more. Lawmakers, both state and federal, have the chance to make change that we all feel, and they often act as a check on executive power — something we've needed recently.  But I had questions, lots of them. I didn't know how to communicate with a legislator and how to put aside my cynicism about it. So, I found someone to ask. 
Leigh Greden was U.S. Representative John Dingell's Chief of Staff, and acted as transition director for Congresswoman Debbie Dingell when she was elected to fill her late husband's seat in 2014. During his time in Washington, Greden took many calls from constituents and spent days working through — and responding to — emails. 
"When a communication comes in, it is first logged into a database," Greden said. "A lot of communications are received, and we need to keep track of them. Then, we respond."
Once logged, the communications are shared with the congressperson. 
"Members of Congress can't look at every constituent email they receive, because there are too many, but they'll share information," Greden said. Some members of Congress may say every week, 'How many constituents have we heard from? What issues are they writing about? What position are they taking on the issue?' There might be some surprising things that the member of Congress learns about that."  
It calmed my nerves to understand this process. But I still didn't know how to go about it. Should I call? E-mail? Snail mail? Drive to Lansing and tell them myself? If I did, what would I say? Lobbying legislators is an essential part of the Democratic process, and I needed to make sure I was doing it right.
"Don't write a letter in the U.S. mail," Greden said. "Mail to the Capitol has to be screened through an anthrax screening center, so it takes weeks to get there. Calling is also not as efficient. When you call, either an intern or a staff assistant will pick up. You're relying on them to write down all of your information correctly — both what you're saying and your contact information. There's a risk that [your message] could get lost in the shuffle because they're doing other things."
 Email is the best way to reach representatives. All of their websites have email databases set up; sometimes you can write to them on the website, where a template is provided.
"Put what you're writing about in the subject line," Greden said. "Be very concise, right off the bat. In the first sentence, repeat what you're writing about. 'I am writing to urge you to vote yes on this or no on this.' [Also,] include your U.S. mailing address. It's important for lawmakers to know that you are their constituent. It's very common for people to write to lawmakers outside their district. Focus on writing your own member of Congress — it is much more effective. Put in the body of the email, 'I am a resident of your district, and I am urging you to vote no.'"
 Talking to Mr. Greden helped me realize that voicing concerns to elected officials is important, and even a necessary part of effective advocacy. It's not that difficult; we can—and should—do it. Spreading awareness is helpful, but in order for change to come, legislation needs to be enacted.  The people voted to put these lawmakers in office, and they want to represent us as best as they can; they pay attention to what we tell them. Talking to them is a right we have as citizens, and there is no age limit. 
Debbie Dingell represents Michigan's 12th District in Congress. Find out how to contact her on her website! 
Leave a Comment
About the Writer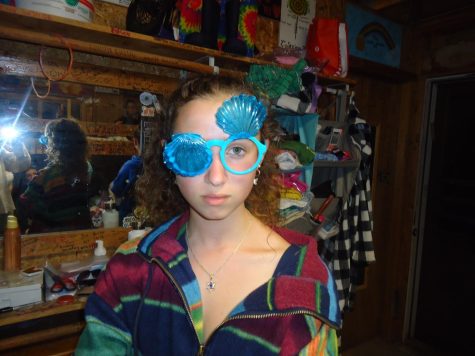 Scarlett London, Web Editor-In-Chief
Scarlett London is a senior at CHS. This is her seventh semester in journalism and her second year as Web Editor-in-Chief. When she's not editing articles or listening to music, she loves driving around with friends, watching movies, and looking at art. She loves dancing and spends time every day at the studio. She also sits on the teen editorial board for jGirls magazine. She has been involved with The Communicator since her freshman year and is excited to return as Editor-in-Chief this year!