The WNBA Helped Flip the Senate — and More People Should Know About It
In August of 2020, the Rev. Raphael Warnock polled at a mere 9% in the Georgia Senate race before the Atlanta Dream and other Women's National Basketball Association (WNBA) teams wore "Vote Warnock" shirts, opposing Dream co-owner and incumbent Republican Sen. Kelly Loeffler. Soon after the collective action of the players, Warnock's poll numbers increased, moving him from fourth to third place in the race.
On Nov. 3, Warnock forced a runoff race in Georgia, and on Jan. 5, he became the state's first Black senator-elect. And with Jon Ossoff's victory in the Senate, Warnock's win was monumental in advancing President-Elect Joe Biden's upcoming agenda, with all of Congress now in Democratic control. In part due to the recent voter turnout initiatives led by former State Rep. Stacey Abrams, there were many factors that led to Warnock's Georgia victory, but the proactive push for change led by players of the WNBA must be more widely recognized.
In July, Loeffler wrote to WNBA Commissioner Cathy Engelbert strongly opposing the league's embracement of the Black Lives Matter movement. In her letter, the former appointed senator raised concerns about politicizing sports, their league and their team. 
"The truth is, we need less — not more politics in sports. In a time when polarizing politics is as divisive as ever, sports has the power to be a unifying antidote," Loeffler wrote. "And now more than ever, we should be united in our goal to remove politics from sports."  
She objected to having players wear warm-up shirts reading "Black Lives Matter" and "Say Her Name." She instead wanted to see the U.S. flag on her team's jerseys. 
Her team disagreed. And so did other players around the league. 
Seattle Storm's Sue Bird first suggested wearing "Vote Warnock" warm-up jerseys, and the idea quickly spread around the league. On Aug. 4, the Phoenix Mercury played the Dream, warming up in the shirts for the first time. Dream members aligned themselves with Warnock and promoted his candidacy hoping for new ideas to be adopted into the U.S. Senate and for him to address important issues of racial injustice that Loeffler was actively ignoring and working against. 
The week following the Aug. 4 game, Warnock's campaign received around $240,000 in part from 4,000 new donors. Players from the Dream, Mercury and other teams made an undeniable difference in accelerating Warnock's candidacy, and it is critical that they are recognized for it. They dissociated from their own team's co-owner and launched full-fledged support behind a candidate polling under 10% at the time. 
No other sports league in the country used their political voice like the WNBA; no other league had teams unanimously supporting and promoting a single candidate, unafraid of the incumbent senator's campaign they were actively disrupting. Flipping the Senate this past election year hopefully means change is coming to U.S. politics, but if it weren't for the Atlanta Dream and others, the historic outcome of the Georgia runoff election may have had a much different result — not only for Georgia but for the future of government in the nation. 
The message "Vote Warnock" was seen on center stage during the summer of 2020 due to efforts by the WNBA. Around five months later, Warnock won by 1.8 percentage points and over 80,000 votes. And as a result, with Democrats now controlling the Presidency, House and Senate, our country has a much clearer path for advancing Democratic policy — something that has been undoable in recent years.
Leave a Comment
About the Writer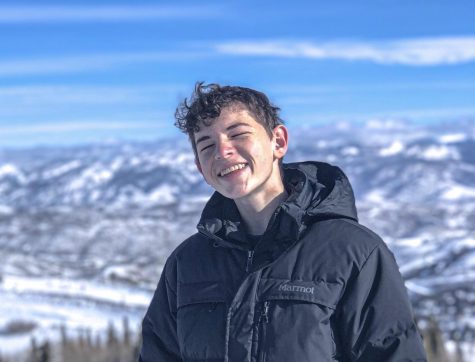 Dan Gutenberg, Web Editor-in-Chief
Dan is a senior and this is sadly his fourth and final year on staff. In class, you'll usually find Dan working hard on the website, editing someone's work or occasionally on SNO unproductively changing his admin color scheme just for fun. Outside of class, if he's not on the soccer field for Pioneer, he's most likely climbing, hiking, golfing, skiing or playing tennis. And he also remains convinced that he can beat anyone on staff in ping-pong, so feel free to lower his ego and challenge him to a match.